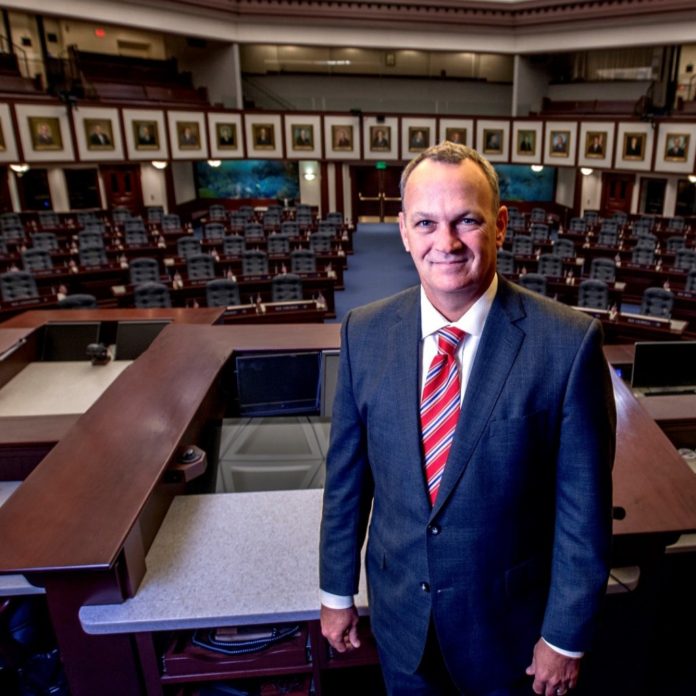 Florida House Speaker Richard Corcoran is arguably the second-most powerful politician in the state. Eyes are on him now to see if he'll attempt to climb the final step and become the next Governor of Florida.
The Land O' Lakes Republican has gone on the record saying that he is seriously considering a run in 2018, but with the added caveat that it will only be a run for Governor. Other options, like state Attorney General or U.S. Senator, are off the table.
"Those are the only two choices – governor or not run for office," he said to the Tampa Bay Times.
Corcoran also mentioned he would not make a final decision until after the 2018 Legislative Session, for which he will remain as the Florida House Speaker.
In Tallahassee and elsewhere, the speaker's reputation is one he's carefully crafted to match that of a political "disruptor." Early on in his leadership of the House, he called for ethics reforms that would be "the most transformative in the history of the Florida Legislature."
His efforts to make government more "accountable" was also one of his greatest shortcomings, given that most of these initiatives fell flat in the face of resistance. One such proposal, which set the tone for his incoming speakership, was a rule to ban "texting while legislating."
Unlike ethics reform, the speaker was successful on passing one of his most prized legislative priorities, HB 7069, a $419 million education bill which is friendly to Florida charter schools. His success is owed, in part, to his sudden partnership with Gov. Rick Scott at the close of session.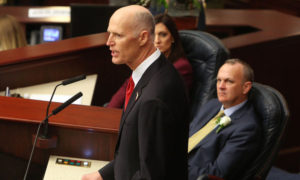 Corcoran, who had previously labeled Scott as a "crony capitalist," helped the governor get his $160 million investment economic development programs across the finish line. The governor then rewarded him with his signature on HB 7069 and an invitation to join him on a victory tour across the state.
A continued alliance with Gov. Scott could pay dividends for a Corcoran gubernatorial run, given Scott's close relationship with President Donald Trump.
Despite his lack of a final decision, Corcoran opened a new political committee called Watchdog PAC to begin the daunting task of amassing sufficient funds to challenge Agriculture Commissioner Adam Putnam.
"If I can't raise the money, I can't raise the money, and if I raise the money and I don't want to run for governor, I don't run for governor. I'll use it for constitutional amendments, I'll use it for helping real conservatives, or I'll turn it over to the (Republican) party," Corcoran also told the Tampa Bay Times.
Filings in June, however, reveal closely-matched revenue streams for both Putnam and Corcoran, having raised close to $2 million each for the month.
Putnam received a sizeable portion from U.S. Sugar and powerful Tallahassee lobbyists affiliated with the Associated Industries of Florida. Corcoran received large chunks from The Fountainbleau (a Miami Beach hotel which his brother Michael lobbies for) as well as from Reps. Jose Oliva and Chris Sprowls.
Contribution sources aren't the only area where the two Florida Republicans differ.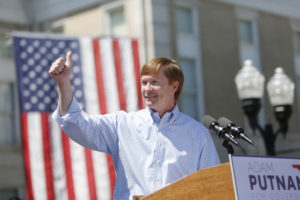 Putnam, branded as the GOP establishment candidate, favors pro-growth and pro-business measures that will make Florida the "launch pad of the American Dream." It's an overall-positive message about cutting spending, keeping taxes low, and other items of the typical Republican playbook.
Corcoran's niche, on the other hand, seems to be his hardline stance against corporate welfare and insider-influence on the state's policies. His distrust of the legislator-turned-lobbyist revolving door in Tallahassee manifested itself in policies as well as rhetoric. Such policies include new rules for lobbyists, who were now required to disclose their clients as well as the bills and amendments they were hired to influence.
A selling point for Corcoran's anti-establishment position is that he was once chief of staff to Marco Rubio during his time as Florida House Speaker.
In an interview with the Sun-Sentinel, former Senate President Tom Lee said this about the incoming speaker last year:
"It's a remarkable start to this man's tenure as a presiding officer that he's willing to take the 20 years' experience he has as a staffer and a legislator and use that to reform the system so that members are not so quick to monetize these titles."
Aside from his vendetta against overreaching lobbyists, Corcoran takes very conservative stances on various issues, especially for spending items such as Medicaid or amnesty for illegal immigrants. His far-right leanings have earned him the coveted support of conservative powerhouse Americans for Prosperity.
While this may give him a clear foothold in a Republican primary, the jury's still out on how he would perform in the general election – especially against an outsider candidate like Democrat John Morgan.
Regardless, his entrance into the race could provide Putnam with a challenge if no other firm conservatives – such as Congressman Ron DeSantis – jump in.
Only 2018 will tell.