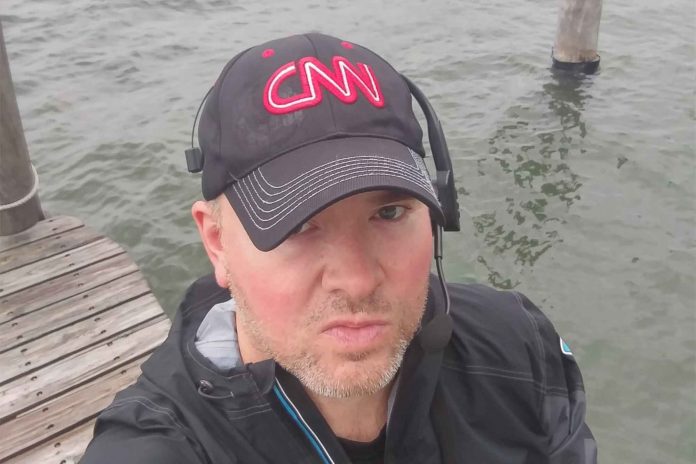 Veteran CNN producer John J. Griffin, 44,  was arrested by the FBI on December 10th. And the indictment was unsealed Monday.  He is being accused of luring underage girls for sexual abuse.
Griffin, who worked closely with now ex-anchor Chris Cuomo, for years, has been suspended from CNN.
#FBI Albany SAC statement regarding the arrest of CT resident John Griffin by our Rutland, VT Resident Agency. @USAO_VT release here: https://t.co/mYOr6ZcpdN pic.twitter.com/3yhjn3NYqi

— FBI Albany (@FBIAlbany) December 10, 2021
The cable-network executive was allegedly using a "BDSM dating, Fetish, and Kink" website. He was trying to find parents to allow him to train their minor daughters in sex and subservience.
In at least one instance, after texting and phone conversations Griffin allegedly transferred the parent $3,350 to cover the costs for a trip from Nevada to Boston.
According to court documents he bragged about engaging girls as young as 7 for "sexual subservience" training.  He attempted to lure at least four girls, for the deviant sessions. And offered such things as "spanking" and "c–k worship." 
CNN producer charged with sexual abuse
Griffin was active on the kink website during 2020. During a series of online conversations, he "espoused a way of life in which women are sexually subservient and inferior to men." the indictment claims.
"There is a natural, wanton whore at the core of ANY female, whether she knows it or not," Griffin said last summer, prosecutors allege.
He then told the purported mother of an underage girl that she should come for "a little mother-daughter trip" to his Ludlow, Vermont, house for sexual training.
"When handled appropriately, a woman is a woman regardless of her age," Griffin also allegedly told the person.
"One of the big lies of this society is that women are delicate innocent angels and they are in actuality, naturally, the dirtiest sluts possible, in EVERY metric," he added, according to the papers.
In April, Griffin chatted with the supposed father of a 14-year-old and told him he'd sexually trained a child as young as 7-years-old. And said the teen and her mother would be good candidates for his school.
Griffin said he'd instruct the teen and her mother "to remove their clothing and touch each other," the indictment says.
In July 2020, Griffin drove his red Tesla Model X to Boston Logan International Airport to pick up a parent and 9-year-old. And then he took them to his ski house, where the child "was directed to engage in and did engage in illegal sexual activity," according to the indictment.
"The charges against Mr. Griffin are deeply disturbing," CNN spokesperson said. "We only learned of his arrest yesterday afternoon and have suspended him pending investigation."
Griffin first appeared in a Vermont federal court. And is scheduled for arraignment on Wednesday.