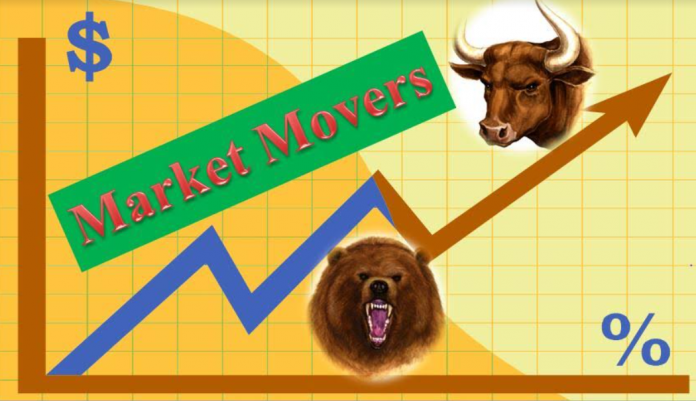 The stock markets were flat on Wednesday night. Investors focused their attention back on companies' quarterly financial results, the Biden administration's efforts to increase the access to COVID-19 vaccines, and Congress' action on the proposed $1.9 trillion COVID relief bill.
Last week, investors were concerned about the stock market volatility, which was primarily driven by Reddit traders particularly the members of the WallStreetBets forum.
The S&P 500 gained 0.10% to 3,830.17 points and the Dow Jones climbed 0.12% to 30,723.60 points. The NASDAQ declined 0.01% to 13,610.54 points.
In an interview with Yahoo Finance, Jason Draho, the Head of Asset Allocation Americas at UBS, said, "Once the dust settled from last week, people are sort of pivoting back to those fundamentals." He added tha the stock markets will experience more tailwinds than headwinds citing the fact that the fundamentals are currently pointing upward.
Stock market winners and losers
Some of the stock market movers include Alphabet Inc (NASDAQ: GOOGL, GOOG), Apple Inc (NASDAQ: AAPL). American Airlines Group (NASDAQ: AAL), eBay Inc (NASDAQ: EBAY), and Qualcomm, Inc (NASDAQ: QCOM).
The Class A (GOOGL) and Class C (GOOG) shares of Alphabet surged as much as 9.6% during the intra-day trading on Wednesday. The company's stocks ended the trading session with more than 7% on Wednesday. GOOGL shares were up 7.28% to $2,058.88 eacg while GOOG shares climbed 7.4% to $2,070.07 each.
Alphabet shares were trading in the record territory as investors were pleased with the company quarterly financial results. On Tuesday, Google's parent holding company posted $22.30 earning per share, higher than the consensus estimate of $15.90 per share. Its revenue was $56.9 billion, higher than te $53,13 billion expected by Wall Street analysts.
Apple (AAPL) shares gained almost 2% to $136.56 per share during the extended trading. Investors reacted positively to the report that the Cupoertino-based tech giant is close to sealing an agreement with Hyundai-Kia to manufature an Apple-branded autonomous electric vehicle.
The stock price of American Airlines (AAL) surged 6% to $17.60 per share despite its announcement that it will send furlough notices this week to its approximately 13,000 employees. It appears that the company is the next target of Reddit traders from the WallStreetBets (WSB) forum.
eBay (EBAY) shares ended the trading session with a 1.24% gain to $58.04 each. During the extended trading, company's stock surged 11.06% to $64.46 per share. Investors were encouraged by its strong quarterly financial results.
eBay reported fourth-quarter adjusted earnings of $0.86 per share, higher than the $0.83 per share consensus estimate. Its revenue was $2.9 billion compared wirg the $2.7 billion expected by Wall Street analysts.
Qualcomm (QCOMM) shares declined more than 8% to $151.40 each after the company reported its first-quarter financial results. The company's earning were $2.17 per share, higher than the $2.10 per share consensus estimate. Its revenue was $8.23 billion, slightly lower than the $8.27 billion expected by Wall Street analysts.
Have a story you want USA Herald to cover? Submit a tip here and if we think it's newsworthy, we'll follow up on it.
Want to contribute a story? We also accept article submissions – check out our writer's guidelines here.