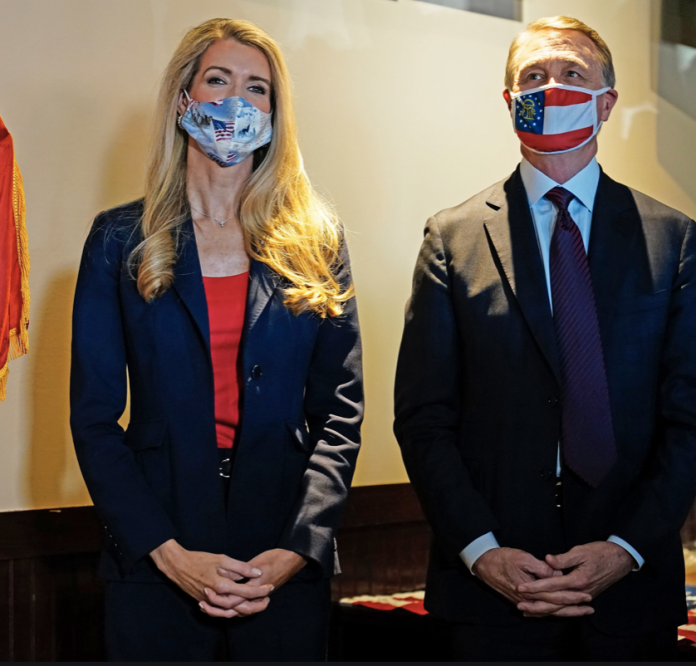 The state of Georgia remains at the center of nationwide attention amid the two senatorial races.
Republican Sens. David Perdue and Kelly Loeffler are both running for re-election. If they win their runoffs on January 5, the Senate will stay controlled by a Republican majority. However, should Democrats Jon Ossoff and Raphael Warnock win the seats of Perdue and Loeffler, Democrats will have full control of the U.S. Congress.
Democrats are hard at work on Ossoff and Warnock's behalfs. Meanwhile, Republicans are also working mightily to ensure Perdue and Loeffler's re-elections. New developments show that allies for first son Donald Trump Jr. are launching a super PAC to persuade Georgians to vote for Perdue and Loeffler.
Re-electing Sens. David Perdue and Kelly Loeffler
Aides to the eldest first son seek to get Trump voters out to the polls in these runoffs. Early voting in both Georgia senatorial races starts on December 14, precisely two weeks from today.
To ensure the effectiveness of this PAC, Trump allies are seeking to "directly engage" with Trump voters in Georgia. Strategies to make this happen will include the distribution of pro-Perdue and pro-Loeffler ads on Georgia radio outlets and right-wing television.
The critical nature of the vote
If Georgia Republicans don't show up in droves for Sens. Perdue and Loeffler, there is a strong possibility that Democrats could take the Senate.
Furthermore, online rumors have surfaced that some Georgia Trump supporters are planning to sit out these two senatorial runoffs. This is apparently a strategy that some conservatives believe will send a message to GOP officials in the Peach State.
Both President Trump and his eldest son are urging Georgians not to sit out these runoffs. In fact, the president himself warned that not voting for Perdue and Loeffler plays right into the hands of the Democrats. Tossing the Senate to the Democrats would also give them full majority control of Congress.
Georgians have a choice to make. Republicans must work harder between now and January 5 to ensure Perdue and Loeffler's re-elections. This upcoming Saturday, President Trump is scheduled to appear in Georgia to campaign for both GOP senators.
—————————————-
Have a story you want USA Herald to cover? Submit a tip here and if we think it's newsworthy, we'll follow up on it.
Want to contribute a story? We also accept article submissions – check out our writer's guidelines here.