As chairman of the pro-Trump super PAC called New Republican PAC, Scott's victories in the 2017 legislative session translated into a promising fundraising streak, according to the latest campaign finance reports.
In total for the months of May and June, the PAC raised an impressive $270,515.
The New Republican PAC's mission, according to its website, is to "re-brand and re-invent the Republican Party." They seek to do this by appealing to young voters and Hispanic voters, both of which Scott did very well with during his races – especially Latinos.
"[Young voters] believe in this. They like Uber, they like Lyft. They like choices. They like open government. They're not looking for big government," Scott said, "If you're talking about Hispanics, the same thing. Their goal is to live their dreams in this country. They want options."
Additionally, the PAC aims to support younger candidates for office whom are passionate about the issues of deregulation, lowering taxes, school choice, and local government empowerment.
Such candidates are expected to make landmark appearances in the 2018 midterms as primary opponents to establishment Republicans and incumbents who failed to advance the President's popular agenda.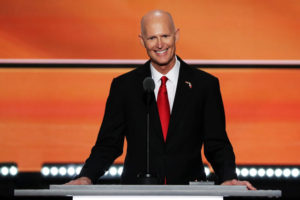 "Donald Trump's election was a complete shock to the system in Washington.  This is the perfect opportunity to do things differently. Donald Trump needs a Republican Party that supports him with ideas that will make American Great, and ideas that the American people want," Scott explains on the PAC's homepage, "New Republican will be an idea generator."
This wouldn't be the first time Scott's campaigning and fundraising skills came through for President Donald Trump. According to several of the President's campaign strategists, the Trump strategy in Florida was to emulate Scott's blueprint for securing Sunshine State votes.
Scott's key to success was the winning of more votes from safely-Republican counties, such as Bay County, where Romney received roughly 56,000 votes in 2012 but Trump received more than 62,000.
These small jolts added up throughout the state, enough to overpower Democrat Hillary Clinton's advantages in Miami, Tampa, and Orlando.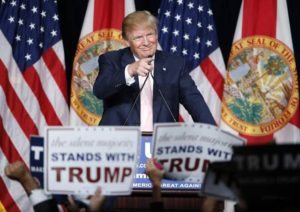 Perhaps the area where Scott provided the best campaign counsel was with regards to winning Hispanic voters in the state.
Unfortunately for Trump, he came short of Mitt Romney's numbers by 3% of Florida Latino votes. Yet even this is an impressive feet when noted that the Latino electorate in Florida nearly doubled between the two presidential elections.  It was thought that the large swell of new Latino voter registrations would sway heavily towards Clinton, given the media's coverage of Trump's disfavor among Hispanics due to previous remarks.
Since the 2012 Presidential elections, over 500,000 more Hispanics are registered to vote in Florida, making them a large portion (roughly 20%) of the total state electorate. Trump won 36% of the bloc, and was most popular among Cuban-American voters who voted for him 54% of the time.
A great deal of research has been done by political pollsters with regards to which messages Hispanic voters tend to align their political views with.
According to the Pew Research Center, Hispanics who are registered to vote lean Democrat on the issue of immigration. However, there is a much more even split when non-voters are included the poll. The Scott strategy was simple – target politically affluent Hispanics who tend to hold more moderate and conservative views, particularly on the issues of border security and abortion, and get them to the polls.
Whether or not Scott's strategy works again during his potential U.S. Senate bid against Democrat Bill Nelson will be seen in 2018.