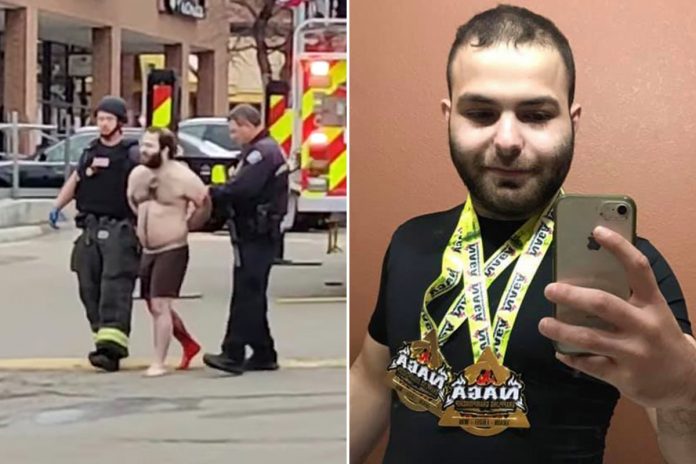 Twitter shows its hypocrisy and bias, again.
On Monday there was a mass shooting in Boulder, Colorado. The gunman opened fire in a King Soopers grocery store killing 10 people including a police officer.
Tens of thousands of tweets claimed Monday's mass shooting was carried out by a "white male."
According to Newsweek reporting, some Twitter users were quick to comment on the fact that the shooter was only shot in the leg. They speculated that he would have been killed if he was a Black or Brown man.
I dunno about you, but Ahmad Al Aliwi Alissa is the whitest name I've ever heard. pic.twitter.com/odE5c2fonP

— Sophia (Checkmark Killa) Narwitz (@SophNar0747) March 23, 2021
Others suggested that the motive of the shooting was another case of  White supremacy and entitlement. The Twittersphere exploded with police bashing and racial injustice rants.
Officials arrested the suspect but he remained unidentified. This often happens when an investigation is ongoing.
 "I want to say our hearts to this community go out to the victims of this horrific incident," said Boulder Police Chief Maris Herold. She identified the officer who died as a 10-year veteran of the force, Eric Talley. Talley was the first responder on-scene. And Chief Herold claimed his actions were "heroic."
Boulder Suspect Identified
On Tuesday, Boulder police identified Ahmad Al Aliwi Alissa, a 21-year-old from Arvada, Colorado, as the suspect. Alissa is not white. He is a Syrian immigrant with a social media history (Facebook) that includes quotes from the Prophet Muhammad.
While identifying the suspect in the mass shooting, the Boulder Police Department released the names of all 10 victims killed Monday.
In addition to Officer Talley, there were nine other victims. This includes Denny Strong, 20; Neven Stanisic, 23; Ricky Olds, 25; Tralona Bartkowiak, 49; Suzanne Fountain, 59, Teri Leiker, 51; Kevin Mahoney, 61; Lynn Murray, 62; and Jody Waters, 65.
More Twitter Hypocrisy in the Twittersphere
Vice President Kamala Harris' ambitious niece, Meena Harris, sent out a tweet on Monday. Her tweet received 6,564 retweets, 35,700 likes, and over 300 quote tweets before Harris deleted it. Like so many on Twitter, Meena blamed white men for the violent shooting in Boulder.
"The Atlanta shooting was not even a week ago. Violent white men are the greatest terrorist threat to our country," Harris tweeted.
In her deleted tweet, Harris wrote, "I saw Boulder trending and I immediately knew. My heart is with everyone affected by this horrific tragedy."
After deleting her tweet, Harris explained on Twitter, writing  "I deleted a previous tweet about the suspect in the Boulder shooting. I made an assumption based on his being taken into custody alive and the fact that the majority of mass shootings in the U.S. are carried out by white men."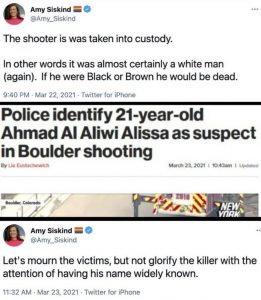 There has been a wave of violent attacks on people of Asian descent across the U.S. 
Eight perished in a shooting spree in three Atlanta spas just days before the Boulder massacre. Six victims were Asian women. The shooter was a white male.
Many of the tweets after the Boulder tragedy referred to Atlanta. 
Statistics
According to data provided by Statista, white shooters accounted for 66 of 121 mass shootings from 1982 to 2021.
In light of the 2019 census data, the US population is 60.1% White Only, 13.4% Black,18.5% Hispanic, 5.9% Asian, and 1.3% American Indian or Alaska Native. 
The truth is that white people still represent the largest demographic in America. And white men commit most mass shootings. Logically, the largest demographic committing the most crime is not surprising. Breakdowns are not readily available to compare each race by overall crime percentages, in order to see if each population (Black, Asian, Hispanic, etc…) is committing crimes in numbers that represent their numbers in the population. 
Twitter Hypocrisy: Policy Not Violated
A Twitter spokeswoman said the "white Christian terrorist" tweet and other false posts did not violate its rules.
"The Tweets referenced are not in violation of the Twitter Rules," a Twitter spokesperson said in an email to Newsweek. "We will not take action on every instance of misinformation. Currently, our misinformation rules cover COVID-19 misinformation, synthetic and manipulated media, and civic integrity."
Join us and follow the USA Herald on Gab
Have a story you want USA Herald to cover? Submit a tip here and if we think it's newsworthy, we'll follow up on it.
Want to contribute a story? We also accept article submissions – check out our writer's guidelines here.