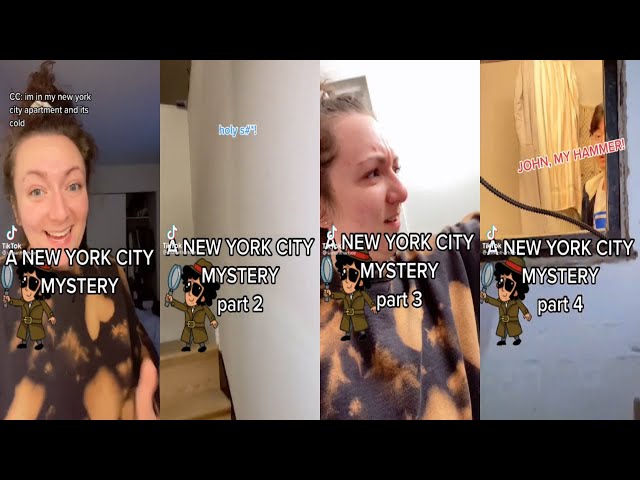 A New York City woman went viral on TikTok Wednesday. She discovered a hidden empty apartment and posted four videos documenting her journey next door through her bathroom mirror.
Already, her videos have received more than 9 million hits.
In an interview with NBC New York Hartsoe described how she felt.  "Curiosity killed the cat, curiosity is going to kill me. "I can't NOT know what's on the other side of my bathroom."
Samantha Hartsoe said she was trying to find where the cold air blowing into her Manhattan apartment was coming from. She removed the mirror from her bathroom wall and found herself looking into a dark unoccupied room.
Hartsoe found a big square-shaped hole in the wall. It seemed, there was a dark mysterious room on the other side. The mystery was too much for her! She gathered her roommates together and set out to see what was on the other side.
The videos depict  Hartsoe, wearing her face mask, with a headlight, and a hammer in hand. Because is was such a tight fit, she almost got stuck as she crawled in head first. 
Her roommates called out warnings, but Hartsoe continued on.
"My roommates definitely thought I was going to be dead," she said. "Every corner I would walk to normal and then be like [moving her head] to check."
Exploring a Secret Apartment
On the other side, she discovered what appeared to be a complete unfinished and unoccupied two-story apartment. In a four-part video series, ""New York City Mystery"  she found bags of trash, an uninstalled toilet and littered the floors.
After investigating both floors of the apartment, Hartsoe locked the front door to the empty apartment and returned back through the hole. A true 'Alice Through the Looking Glass' moment!
"When I came back (my roommates) were excited," she said.
More than nine million viewers have watched Hartsoe's mysterious journey on TikTok as of Friday afternoon.
Hartsoe contacted the maintenance department requesting they fix the hole behind her mirror. At the time of this story Hartsoe hasn't informed her landlord. However, odds are the landlord will see the Tik Tok videos! Meanwhile, the intrepid Hartsoe posted her videos on YouTube on March 5 and the views continue to grow.