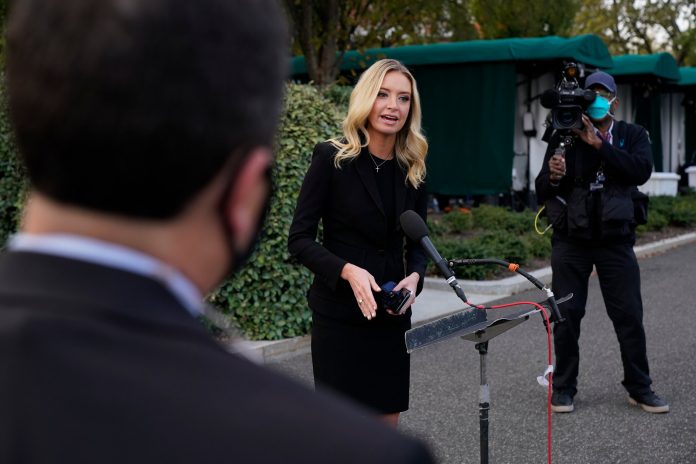 White House press secretary Kayleigh McEnany said she has tested positive for COVID-19 on Monday morning and would begin the "quarantine process."
The news follows last week's revelations that President Donald Trump and First Lady Melania both tested positive for coronavirus.
In addition to POTUS and FLOTUS, other senior White House officials have reportedly tested positive for the coronavirus, including senior advisor Hope Hicks, former New Jersey Governor Chris Christie, former counselor to the president Kellyanne Conway as well as Director of Oval Office operations Nick Luna.
"After testing negative consistently, including every day since Thursday, I tested positive for COVID-19 on Monday morning while experiencing no symptoms," McEnany said.
She assuaged growing fears that increasing numbers of individuals within the White House could have been infected, saying "No reporters, producers, or members of the press are listed as close contacts by the White House Medical Unit."
McEnany has come under fire from the media for holding a press conference last week after it had been announced that Hope Hicks tested positive. According to the White House Correspondents Association, several journalists in the press pool have also contracted COVID-19.
The nation received a serious scare last week when President Trump was transported to the Walter Reed Military Medical Center to undergo treatment for coronavirus over the weekend. Trump reportedly exhibited only mild symptoms and recovered relatively quickly.
Trump to return to White House from Walter Reed Medical Center
So quickly in fact that  Chief of Staff Mark Meadows told reporters that Trump could be discharged as early as Monday afternoon from Walter Reed to return to the White House.
"Spoke to the president this morning," Meadows said. "He continued to improve overnight and is ready to get back to a normal working schedule."
On Monday, President Trump confirmed that he would indeed be leaving Walter Reed to return to work in the Oval Office.
I will be leaving the great Walter Reed Medical Center today at 6:30 P.M. Feeling really good! Don't be afraid of Covid. Don't let it dominate your life. We have developed, under the Trump Administration, some really great drugs & knowledge. I feel better than I did 20 years ago!

— Donald J. Trump (@realDonaldTrump) October 5, 2020
Many individuals demanded the White House to release the names of all infected persons; a request that has been denied thus far by McEnany, who cited "privacy concerns," saying "We take seriously safeguarding the information of personnel here in the White House."
It is currently unknown whether an official statement will be made on the number of infected staff at the White House.
—————————————-
Have a story you want USA Herald to cover? Submit a tip here and if we think it's newsworthy, we'll follow up on it.
Want to contribute a story? We also accept article submissions — check out our writer's guidelines here.