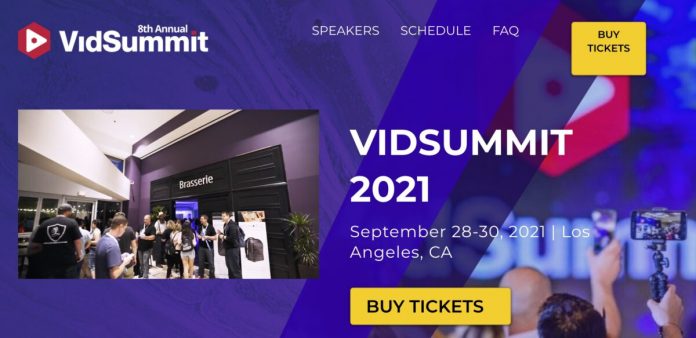 VIDSUMMIT 2021 will be starting Tuesday, September 28th at the Sheraton Gateway Los Angeles Hotel in Los Angeles, CA. It will last till Thursday the 30th. And it is also available for live streaming on the site. 
This conference is not geared for the fans to meet their favorite YouTubers. Instead, it's a place where industry insiders share their expertise and tips. Some of the very best YouTubers and experts will be on hand. If your goal is to become a successful YouTuber, Vlogger, Gamer or create content this is the conference you can't miss.
 Influencers from all over the world will be around to share their knowledge. And this conference is designed to be the perfect motivational booster.
YouTube Conventions are so essential for vloggers who are just about the start of a new channel or popular vloggers who have more than 100k active subscribers.
If you are really passionate about vlogging, content creation, or video editing be sure and visit this convention!
VidSummit wouldn't be VidSummit without the best YouTube Educators & Experts! These people KNOW YouTube…maybe better than YouTube knows YouTube!

This crew can ANY question about anything YouTube related!

Get your ticket today!https://t.co/YzmCghmCrQ pic.twitter.com/cfiWXt0fVM

— VidSummit (@vidsummit) September 8, 2021