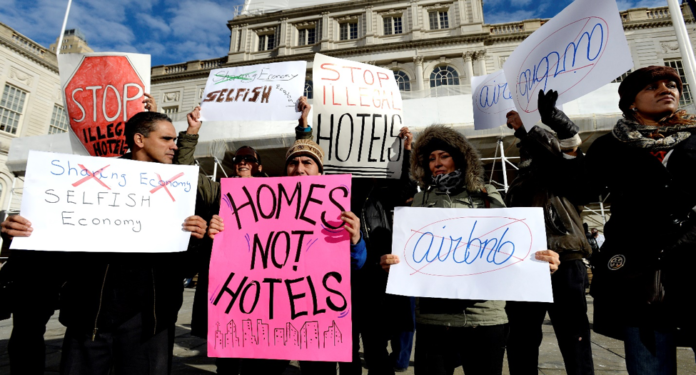 Airbnb is a company that defies definition and because of this it threatens traditional real estate brokers. To slow down the busy travel platform, different groups have filed class action suits against it. Interestingly, the plaintiffs are not in the travel industry and are not competitors. The plaintiffs are real estate brokers who claim that Airbnb is harming their businesses.
Why bring class action suits against Airbnb?
One such case is Parker Madison Partners v. Airbnb (16-cv-0839). In this case Parker Madison has not shown any type injury that courts usually require to bring a suit of this nature to fruition. Park Madison has not yet shown how Airbnb is harming its brokers in any material or financial way.
Prior to the Parker Madison suit, Airbnb was sued in Plazza v. Airbnb. In this suit, which happened to be the second one from the same group, nothing came of it as Airbnb moved to arbitration. The argument is that the lawyers who represented Plazza simply wanted to attack Airbnb and contrived the suit to do it.
Why Airbnb was allowed have it dismissed
In the latest suit, which involved Parker Madison, the US District Judge Vernon Broderick allowed Airbnb to dismiss the case. Judge Broderick decided that Parker Madison did not have any standing that merited a case against the travel site. The brokers at Parker Madison wanted to bring a class action suit against Airbnb.
Because Airbnb's business model is not designed to function like a real estate broker. The travel platform does not have a license to broker real estate in New York. This is where Parker Madison takes issue with Airbnb. Parker Madison does have a license and is following the rules that are established for real estate brokers. However, Judge Broderick decided that Parker Madison did not have any reason to claim that Airbnb was harming the brokerage. Unfortunately for Parker Madison, the fact that the two businesses are run in very different ways, Parker Madison was unable to show any correlation between the two.
Is it possible to win against Airbnb?
Parker Madison has claimed that Airbnb has taken clients from them, but due to the nature of the businesses, Parker Madison did not have proof of the accusation. Without that proof, Judge Broderick had no choice but to choose to dismiss the case against Airbnb. Parker Madison would need to prove that the two businesses function in similar ways to be able to prove any type of damage that Airbnb would cause. It appears that Parker Madison was not prepared for its case against Airbnb, because it was not able to respond to questions from the judge when it had the opportunity to fight against the motion to dismiss.
Airbnb will celebrate its 10th anniversary in 2018. According to the Parker Madison website, the brokerage has been in business since 1996. After nearly a decade in business, Parker Madison should be able to show how Airbnb has damaged it with financial records and other factual evidence. But, the plaintiff was unable to do so, which gave Airbnb the edge in the lawsuit.
If Parker Madison wants to run a successful lawsuit against Airbnb, it will have to do better. Many of the listings on the website offer temporary housing for longer terms that are typical for hotels and other short-term rentals. This is where Parker Madison takes issue. When a company, like Airbnb, provides rental properties but does it without a real estate license, the question about the legality of Airbnb's actions comes into question.
Instead of suing Airbnb for lost business and other financial damages, Parker Madison and other brokerage firms in New York City and other major cities around the United States need to build lawsuits that show how Airbnb is violating city ordinances. New York Governor Andrew Cuomo was successful in signing a law that was designed to fine Airbnb listings that violated state and local rental regulations. Making Airbnb change its ways is the goal of these companies as they feel they cannot compete against the low fee that comes with an Airbnb rental.
Airbnb and Uber getting away from regulations
Airbnb is like Uber, where they use individual properties rather than privately owned hotels or resorts to justify not having to follow rules. Uber gets around chauffeur and taxi regulations by paying individual, "civilian" drivers to use their own cars. These alternatively run businesses are troublesome for business owners who are designed in the old models that follow rules.
The competition seems unfair for taxis who run in the same areas that Ubers run. It also seems unfair for brokers who must battle against the low fee or no fee apartment-finding service that comes with Airbnb. It is easy to understand why the class action suits were brought against Airbnb, but for the brokers to succeed, they must come up with an argument that can fought with facts and figures.