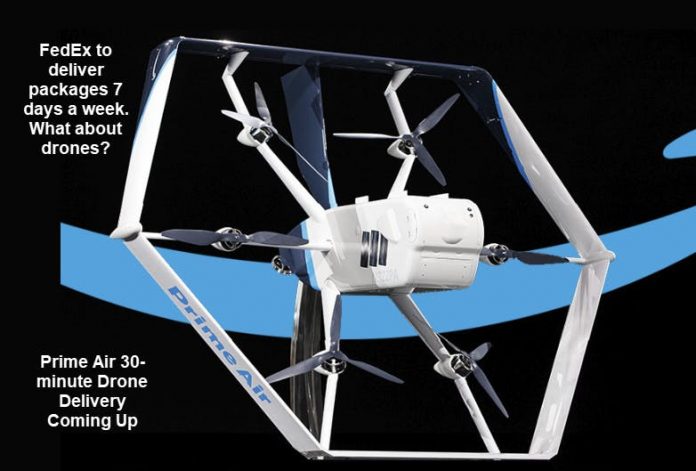 Getting a 30-minute drone delivery of an Amazon package flown into your backyard is one step closer to becoming a reality.
The Federal Aviation Administration (FAA) announced it has granted Amazon Prime Air the official designation of "air carrier." This allows Amazon to begin commercial delivery test flights in the U.S.
The FAA issued a "Part 135 air carrier certificate using unmanned aircraft systems" to Amazon Saturday.
Research and development from 2013 to the present
Back in 2013, in a 60 Minutes interview, Amazon CEO and founder Jeff Bezos announced the new service "Amazon Prime Air" and promised that drones would be delivering packages in "four or five years." 
But there have been technology and regulatory hurdles to overcome. The FAA didn't have a comprehensive set of commercial drone rules until 2016-17. 
In the meantime, Seattle-based Amazon heavily invested in artificial intelligence to help their drones navigate safely to their destinations, and drop off packages. Detecting telephone wires, people, property, and even small animals on the ground all require advanced sensor and collision avoidance systems.
Amazon revealed its next-gen hybrid design for its delivery drone at a June 2019 conference in Las Vegas. The company will use a hexagon-shaped hexacopter that can take off and land vertically but has the aerodynamics and efficiency of a fixed-wing aircraft.
The self-piloting drones are electric, can carry up to 5 pounds, and are designed to make deliveries within 30 minutes by dropping them in a backyard.
"This certification is an important step forward for Prime Air and indicates the FAA's confidence in Amazon's operating and safety procedures for an autonomous drone delivery service that will one day deliver packages to our customers around the world," David Carbon, vice president of Prime Air, said in a statement. "We will continue to develop and refine our technology to fully integrate delivery drones into the airspace, and work closely with the FAA and other regulators around the world to realize our vision of 30-minute delivery."
Seattle-based Amazon is the third drone delivery service to win flight approval, the FAA said. Delivery company UPS Flight Forward and Wing Aviation, a company owned by search giant Google both received the designation last year. 
————————————————–
Have a story you want USA Herald to cover? Submit a tip here and if we think it's newsworthy, we'll follow up on it.
Want guaranteed coverage? We also offer contract journalism here.  Just be sure you're comfortable giving up editorial control because our journalists are dogged and will follow the story through to the conclusion. The story will be published to our exacting standards, without regard for your preferred slant.
Want to contribute a story? We also accept article submissions — check out our writer's guidelines here.