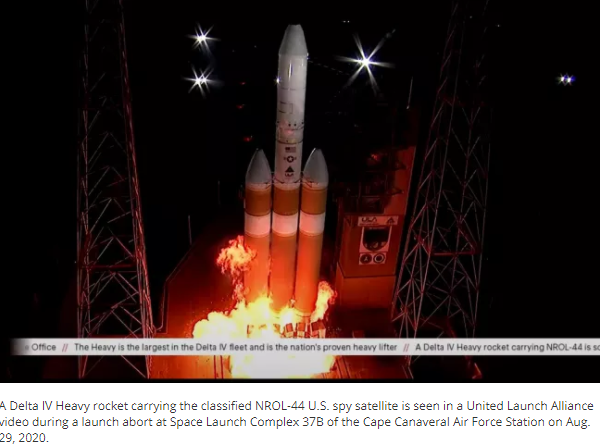 The United Launch Alliance (ULA) was set to send off its most powerful rocket from Cape Canaveral, Florida. They were launching a classified spy satellite for the National Reconnaissance Office (NRO) using a Delta IV Heavy with three rocket cores strapped on its base.
The mission was supposed to be the first of three proposed back-to-back launches out of Cape Canaveral by the ULA and SpaceX. After ULA launched, SpaceX was scheduled to launch two missions.
So many missions clustered together was a rare event for the Florida spaceport. Brigadier, General Douglas Schiess, the commander of the 45th Space Wing oversees the launches.
"It could be a historic event for us this week — lots of things going on," He said during a press call before the first failed launch.
After that flight, SpaceX will then launch its next batch of Starlink internet-beaming satellites. Originally, SpaceX had hoped to launch these two missions on consecutive days following ULA's launch. This would have have been three launches in four days from Florida, which would have been a record.
Aborted mission and delayed launches
Unfortunately, things did not go as planned.
On Thursday, Aug. 27,

ULA announced the planned early morning launch would be delayed due to a faulty heater issue on the launchpad. The company rescheduled to attempt the launch again on Saturday morning, Aug. 29. 
The following Saturday, Aug. 29, at just 3 seconds to liftoff, the countdown stopped. The second attempt to launch the Delta IV Heavy was aborted. Just after the engines ignited they were shut down.
ULA says the abort was caused by  "an unexpected condition."  ULA's CEO, Tory Bruno, announced that the rocket is in good shape, but there will be a seven-day review of all data before a relaunch can be scheduled.
SpaceX missions adjusted to ULA "aborts" 
When the Delta IV Heavy finally does launch, SpaceX will be next-on-deck.
SpaceX is slated to launch a satellite for Argentina's space agency, sending a rocket into an orbit over the earth's poles. It'll mark the first time in more than 50 years that a rocket launches into this kind of polar orbit from the Florida coast. 
With the ULA's two delays, SpaceX will need to reschedule its missions.
Despite the delays, the 45th Space Wing will have three separate teams on-call to handle each launch. ULA and SpaceX are separate companies with no overlap.
The setup was also designed as a precaution, to prevent any unnecessary exposure to the coronavirus.
Since March, everyone going into the operations center is checked. "We take temperatures as we go into our operations centers; we wear face coverings; we have hand sanitizer; we make sure that we're washing our hands on a regular basis," Schiess said.
Delta IV Heavy
The ULA's Delta IV Heavy is a giant vehicle that consists of three rocket cores strapped together to provide extra thrust. It's one of the most powerful rockets in the world. It stands on the launch pad at 235 feet tall. When the is fully fueled it weighs 1.6 million pounds.
That height is equivalent to stacking seven school buses nose-to-tail and the mass of 557 average American cars.
ULA doesn't fly the Delta IV Heavy very often. It's an expensive vehicle. This rocket is only used for big, heavy satellites, that need to be launched into higher orbits.
The rocket's payload is NROL-44, and like all NRO missions, its purpose is classified. 
The NRO press release claims that "NROL-44 supports NRO's overall national security mission to provide intelligence data to the United States' senior policymakers, the Intelligence Community and Department of Defense." ULA previously launched 29 NRO missions, many of them requiring the Delta IV Heavy.
————————————————–
Have a story you want USA Herald to cover? Submit a tip here and if we think it's newsworthy, we'll follow up on it.
Want guaranteed coverage? We also offer contract journalism here.  Just be sure you're comfortable giving up editorial control because our journalists are dogged and will follow the story through to the conclusion. The story will be published to our exacting standards, without regard for your preferred slant.
Want to contribute a story? We also accept article submissions — check out our writer's guidelines here.