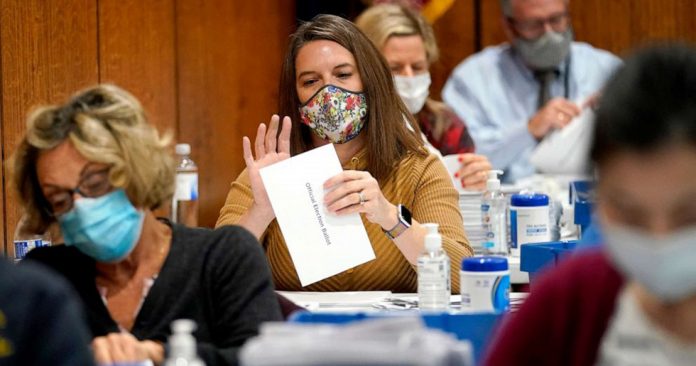 Three whistleblowers have come forward to speak about, what they claim was voting malfeasance during the presidential election of 2020.
The alleged transgression they say they witnessed in Pennsylvania and Wisconsin was called "potential ballot fraud on a massive scale," Just The News reported.
Truck driver Jesse Morgan worked as a subcontractor with the United States Postal Service and said that he was driving a trailer with around 288,000 ballots.
He said he parked the trailer in a USPS depot in Lancaster, Pennsylvania but, he claimed it disappeared from that location.
He said that he reportedly experienced "odd behaviors" from USPS workers, which postal experts have said in sworn testimony "grossly deviate[d] from normal procedure and behavior," a press release from the Amistad Project said.
Nathan Pease of Madison, Wisconsin was another subcontractor for USPS and a fellow whistleblower. He said in a sworn statement that the postal service planned to backdate tens of thousands of ballots after the Nov. 3 Election Day to get around the deadline for submitting ballots.
And Gregory Stenstrom, a third whistleblower who also testified in Gettsyburg, Pennsylvania last week, said that he saw "a Dominion Voting Systems vendor inserting jump drives into voting aggregation machines in Delaware County, Pa.," Just The News said.
He said that election officials also commingled jump drives from several aggregation machines, which would impede the auditors ability to properly certify the election results.
"This evidence joins with unlawful conduct by state and local election officials, including accepting millions of dollars of private funds, to undermine the integrity of this election," Amistad Project Director Phill Kline said.
He said that the accounts from these whistleblowers is "compelling" and that they provide "powerful eyewitness accounts of potential ballot fraud on a massive scale."
The Amistad Project says it has sworn testimony from witnesses that shows "over 300,000 ballots are at issue in Arizona, 548,000 in Michigan, 204,000 in Georgia, and over 121,000 in Pennsylvania."
"The whistleblower accounts released today, detail the failure of election officials in blue jurisdictions to maintain ballot chain of custody, allowing for the potential infusion of fraudulent ballots. These accounts include photographs of individuals improperly accessing voting machines and a detailed eyewitness account of the breaking of sealed boxes of ballot jump drives and commingling of those jump drives with others," the press release said.
"The accounts also reveal multi-state illegal efforts by USPS workers to influence the election in at least three of six swing states. Details include potentially hundreds of thousands of completed absentee ballots being transported across three state lines, and a trailer filled with ballots disappearing in Pennsylvania," it said.
—————————————-
Have a story you want USA Herald to cover? Submit a tip here and if we think it's newsworthy, we'll follow up on it.
Want to contribute a story? We also accept article submissions – check out our writer's guidelines here.