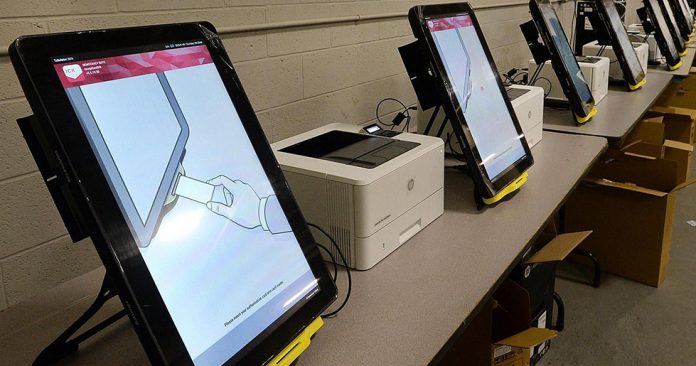 The analyst who was in charge of the Michigan Dominion Voting Systems forensic audit said that evidence showed that the results of races were changed.
"The original report had log evidence that we published in the report to show exactly what we did and exactly the findings. Now, those did ultimately get redacted. And so now, the complaint is 'well, but there's no real proof and Dominion says 'no, these things can't be done,'" Russell Ramsland Jr. said on Newsmax's "Greg Kelly Reports."
"But at that point, Dominion's argument is no longer with us. Dominion's argument is with their own user's manual and their own logs because the logs—had they been able to be published—show very clearly that the RCV [ranked-choice voting] algorithm was enacted. It shows very clearly that the error messages were massive. It was very clearly [sic] that races were flipped," he said.
That is a very serious charge and one that Michigan Secretary of State Jocelyn Benson and her office did not respond to when reached for comment by The Epoch Times.
Ramsland and the Allied Security Operations Group team did a forensic audit of the Dominion voting system in Antrim County, which was originally reported as a win for former vice president Joe Biden until it announced it had made a mistake and President Donald Trump was the winner.
Benson's attorneys asked 13th Circuit Judge Kevin Elsenheimer to have the auditors redact the logs before releasing the report, stating that the logs could contain source code and it could be a security risk to publish them.
But the plaintiff's attorney, Matthew DePerno, said that the logs simply showed the errors that the Allied group found.
Ramsland said that his team believes that Dominion's voting system "is intentionally and purposefully designed with inherent errors to create systemic fraud and influence election results."
"The system intentionally generates an enormously high number of ballot errors. The electronic ballots are then transferred for adjudication. The intentional errors lead to bulk adjudication of ballots with no oversight, no transparency, and no audit trail. This leads to voter or election fraud. Based on our study, we conclude that the Dominion Voting System should not be used in Michigan. We further conclude that the results of Antrim County should not have been certified," the report said.
And when he spoke to Kelly he predicted that even bigger information would be forthcoming, showing that the votes were skewed.
"I think that there's going to be some information [to] come forth in the next few days, that is going to drastically change the playing field," the auditor said. "And the real question is, will people report on it? We'll see."
—————————————-
Have a story you want USA Herald to cover? Submit a tip here and if we think it's newsworthy, we'll follow up on it.
Want to contribute a story? We also accept article submissions – check out our writer's guidelines here.