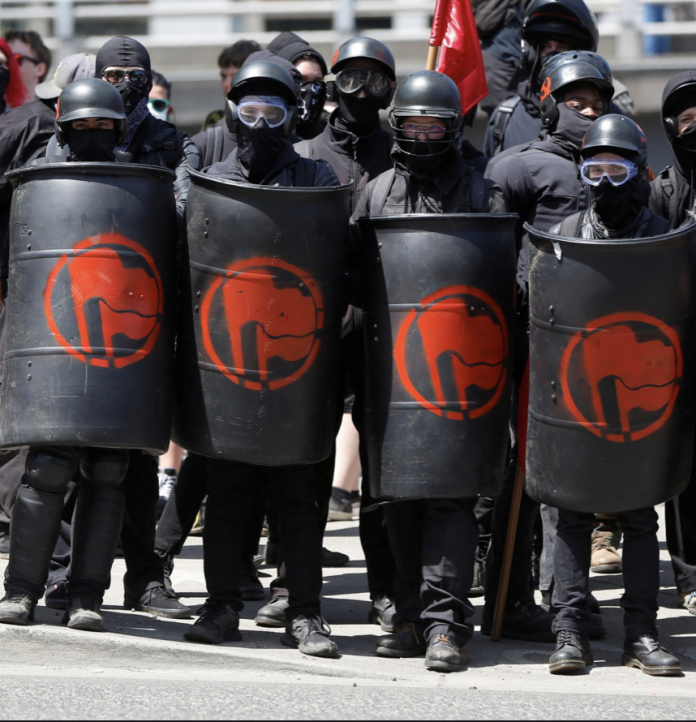 In recent years, the organization known as AntiFa (short for anti-fascism) has gained infamy. Members of AntiFa are known for putting on masks and engaging in acts of violence in public; in virtually all cases, right-wingers or protesters who oppose leftism are on the receiving end of said violence. Conservatives are known critics of AntiFa, whereas the left-wing collectively maintains a more sympathetic outlook on the group.
AntiFa is under fire once again, following riots which occurred in Portland, Oregon yesterday. As a matter of fact, many witnesses viewed the conduct of AntiFa as so bone-chilling that President Trump may officially categorize the group as an "organization of terror."
Everything You Need to Know about the Mayhem in Portland
On Saturday, left-wing and right-wing individuals clashed with each other during the End Domestic Terrorism rally. Reportedly, yesterday's events occured as a subsequent result of previous protests where AntiFa members punched, kicked, and threw milkshakes on journalist Andy Ngo.
Yesterday's protest ultimately resulted in multiple arrests and injuries. Authorities furthermore confiscated various weapons, including knives, stun guns, chemical sprays and more. Apprehended individuals faced charges of unlawful weapons use, disorderly conduct, interference with police, etc. Throughout the duration of protests, law enforcement officers worked mightily to prevent physical contact between as many members on both sides as possible.
Antifa hurling ethnic slurs at black Portland police officer pic.twitter.com/ck5uNHMdI2

— Jack Posobiec 🇺🇸 (@JackPosobiec) August 17, 2019
The Portland protest remained in the works for quite some time with city authorities bracing themselves. On Saturday, Portland Mayor Ted Wheeler noted his focus on maintaining public safety.
More on AntiFa and the Potential "Organization of Terror" Classification
For quite some time, the right-wing has cited AntiFa's often violent actions as evidence of homegrown terrorism. Furthermore, AntiFa regularly faces censure by those who view the group as perpetuating fascism, despite their name.
Yesterday's scene also prompted President Trump to speak out. The president declared that eyes are on Portland and an "organization of terror" label may soon befall AntiFa. Trump took to Twitter to make this announcement, a matter which he has previously talked about.
Major consideration is being given to naming ANTIFA an "ORGANIZATION OF TERROR." Portland is being watched very closely. Hopefully the Mayor will be able to properly do his job!

— Donald J. Trump (@realDonaldTrump) August 17, 2019
Democrat leaders have faced heat in previous times for what some Americans view as lackluster condemnation of AntiFa-fueled violence. Current left-wing presidential candidates will likely address yesterday's events in the coming days and weeks.