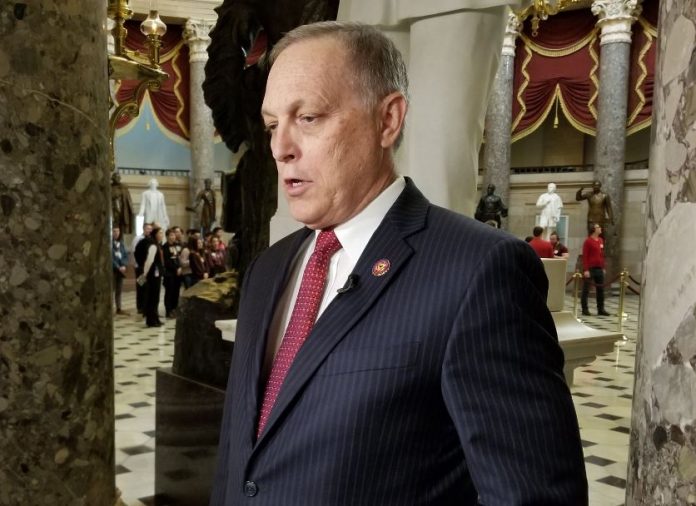 U.S. Representative Andy Biggs of Arizona criticized the compromise spending bill announced by the bipartisan group of lawmakers who negotiated the deal.
The spending bill includes $1.375 billion in funding to build 55 miles of physical barrier along the southern border. That amount is significantly lower than the $5.7 billion in border wall funding demanded by President Donald Trump. It also includes 40,250 beds for immigration detention facilities, less than the 52,000 beds requested by the President.
In an interview with Fox Nation's David Webb, Biggs said, "It's just a crappy spending bill with this little border deal on the side."
He added that the bill means failure on the part of the Congress to deliver the needs of the Customs and Border Protection (CBP) and the Immigration and Customs Enforcement (ICE).
"We have failed to deliver for CBP…from the back pay issue that they had, the overtime pay, the additional equipment needs. We are not giving ICE everything it needs to detain people…It's just a lousy spending bill with this little hitch on the side."
Rep. Biggs says the spending bill is a "bipartisan failure"
In a separate statement, Biggs said Congress once again "failed to secure the border." The spending bill is a "bipartisan failure." He encouraged Trump to use his existing authority to start building the wall.
"The American people should be outraged when they learn about the border security provisions of this deal… Instead of empowering ICE to do their jobs to protect the homeland from criminally violent illegal aliens, conferees agreed to limit their abilities to detain them. Instead of listening to Border Patrol experts, conferees decided to chart their own path towards a politically comfortable solution," according to Biggs.
Additionally, he wrote, "I urge President Trump to use the authority Congress has already delegated to the executive branch to begin building the wall and additional border security measures. The American people deserve a secure border."
On Wednesday, Biggs introduced a short-term continuing resolution to fund the government for another week and allow Congress to continue negotiating on border security.
Meanwhile, Trump told White House reporters, "I don't want to see a shutdown. I don't want to see another one. There's no reason for it."
Many believe that the President will sign the bipartisan spending bill to prevent another government shutdown.