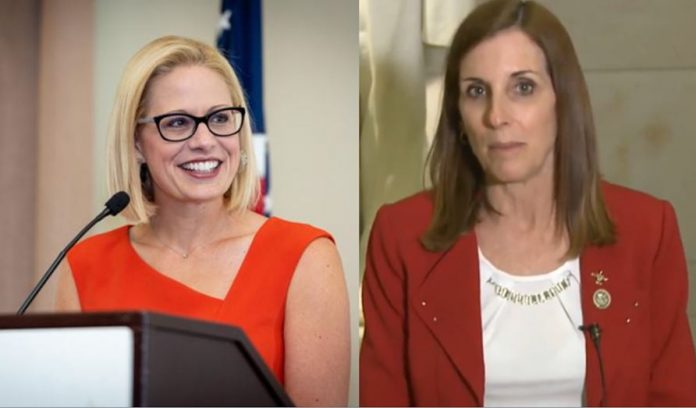 Arizona Republicans filed a lawsuit challenging the state's procedures for counting mail-in ballots on Wednesday night. More than 75 percent of voters in the state cast ballots by mail.
The complaint comes as the race between Republican Martha McSally and Democrat Kyrsten Sinema for the U.S. Senate is too close.
McSally gained 856,838 votes or 49.37 percent while Sinema obtained 839,775 votes of 48.39 percent. The Republican senate candidate is ahead by less than 1 percent or 17,073 votes as of yesterday night.
Republicans in Apache, Maricopa, Navajo, and Yuma counties are complaining about the way election officials are verifying signatures on mail-in ballots.  Currently, if county recorders have problems verifying signatures in mail-in ballots, they are calling voters to verify their identity, according to the Arizona Republic.
Republicans demand equal treatment of votes  
In their lawsuit, Republicans alleged that state's 15 county recorders are not following a uniform procedure for counting mail-in ballots. Their practice of calling voters to verify their signature violates state law.
In a statement to the media outlet, Arizona GOP Chairman Jonathan Lines, said, "A foundational principle of American democracy and our justice system is that all votes are treated equally. It is not [neither] fair nor just that voters in one county are treated differently under the law from other voters in Arizona."
Additionally, Lines said, "This suit seeks immediate redress of any inequality between ballots cast across Arizona. We stand behind our local county parties demand for equal treatment."
On the other hand, Maricopa County Recorder Adrian Fontes explained that he and other county recorders have been conducting post-election verification calls for years.
"There are voters all over Arizona that have been benefiting from (this practice) for over a decade and Maricopa County voters should have that same benefit of due process," said Fontes.
Democrats accuse Republicans of attempting to suppress votes
 Meanwhile, Arizona Democratic leaders alleged that the Republican's lawsuit is an attempt to suppress votes.
Felecia Rotellini, the chairwoman of the Arizona Democratic Party, commented, "The Republican party is doing everything it can to silence thousands of Arizonans who already cast their ballots. That's absolutely wrong, and the Arizona Democratic Party is fully prepared to fight to ensure that every last Arizonan has their vote counted."
Brett Johnson, the lawyer representing the Republicans, denied the Democrats' allegation. He emphasized that their intent was to ensure that counties follow the law.
"Our intent was never to suppress. Our intent was to ensure all counties to follow the law. Because of what Maricopa and Pima have done, it is essential that all counties get the same benefits," said Johnson.