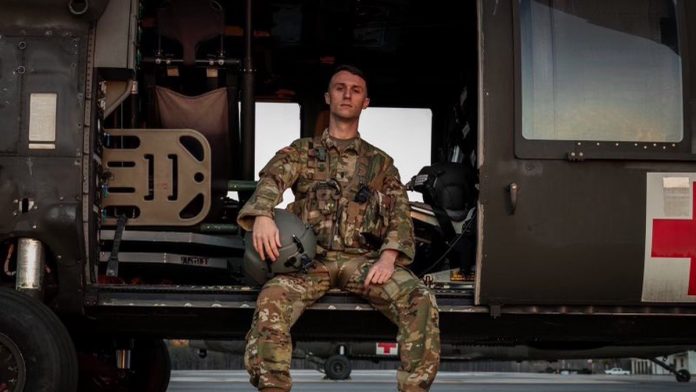 Capt. James Bellew was an Army helicopter pilot based out of Fort Stewart-Hunter Airfield in Georgia, who died last week. 
He was the only person involved in the puzzling 2 am helicopter crash which involved two helicopters. He was found dead at the crash site hours later the next morning. 
The army's statement confirms that the incident which killed Bellew involved two UH-60 helicopters.  Bellew's crash at Wright Army Airfield is currently under criminal investigation.
Lt. Col. Lindsey Elder, public affairs officer for Fort Stewart-Hunter Airfield's 3rd Infantry Division said in the March 30th statement.
 "Capt. Bellew was on MEDEVAC duty the night of the incident. MEDEVAC crews sleep on site to remain on call at Wright Army Airfield during their shifts to remain postured to respond to medical emergencies. The initial indication is that all other crew members were asleep at the time of the incident."
"Capt. Bellew was the only crewmember involved in the incident and he was the only one injured or killed in the incident," Elder added, "At this point, we cannot address the manner of the damage to the two aircraft, timeline of events, or the response from the tower and emergency services, as those details are still considered part of the active investigation."
The investigation escalated due to the theories about the crash on social media. It has been alleged that the aircrafts were intentionally destroyed. And that Ballew may have committed suicide.
The Criminal Investigation Division (CID) leading the investigation indicates the possibility of criminal involvement. Routine accidents are normally investigated by the Combat Readiness Center. According to the Army Times the involvement of the CID means there is suspicion that the incident may be 'the result of a criminal act.' 
 Highly honored helicopter pilot 
Colonel Eric Vanek, Bellew's brigade commander, described the captain as a top officer in his unit.
"The loss of James is an immeasurable tragedy to his family, friends, crew and fellow soldiers," his statement said. 
He also claimed that Bellew's role in MedEvac was "one of the noblest professions imaginable…a role where he was constantly helping and saving the lives of others."
Bellew was from Charlottesville, Virginia. He was a highly decorated officer. And was awarded military career, he was awarded the Army Achievement Medal, National Defense Service Medal, Global War on Terrorism Service Medal, Korean Defense Service Medal, and Army Service Ribbon, during his career.
The US Army's Criminal Investigation Division is not commenting until the investigation is complete.
'No further information will be released at this time to protect the integrity of the ongoing investigation.'