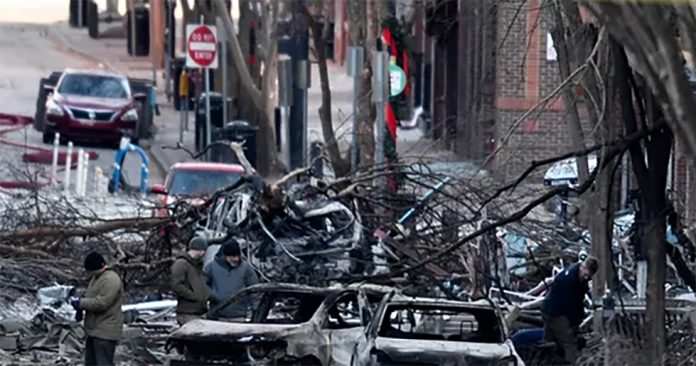 A person of interest (POI) has been named in the frightening Christmas Day bombing in Nashville, Tennessee.
Authorities identified 63-year-old Anthony Quinn Warner as the POI in the bombing on Saturday. The man lives in the Nashville area, according to CBS News Chief Justice and Homeland Security Correspondent Jeff Pegues.
He said that Warner has a similar make and model RV like the one that police have been seeking in connection with the fiery blast.
…@CBSNews #EXCLUSIVE
CBS News has learned that #police have a person of interest or persons of interest in connection with the #explosion that rocked #Nashville on #ChristmasDay.

— Jeff Pegues (@jeffpeguescbs) December 26, 2020
…#exclusive @CBSNews has learned the name of a person of interest tied to the explosion that rocked #Nashville on #Christmas Day. Multiple sources tell us that Anthony Quinn Warner, a Nashville area resident, had a similar make and model RV.

— Jeff Pegues (@jeffpeguescbs) December 26, 2020
Authorities on the scene of the person of interest Anthony Quinn Warner's home. #nashvillebombing pic.twitter.com/UrwyZlP3YX

— Brittany (@Brittany3l) December 26, 2020
The RV played a frightening recording telling residents to evacuate as a bomb was about to go off. That was followed by a 15-minute countdown until detonation.
But one expert believes that rather than an attempt to minimize deaths the person who made the recording wanted to draw first responders in.
putting this back on my TL for anyone that hasn't seen it. this is real footage, real audio. this message was being broadcast from the RV that exploded. #nashvillebombing pic.twitter.com/VGWTLaz0WD

— camille 🌷✨ (@angclreyes) December 26, 2020
"I kind of think it was probably an idea to get first responders to come in," Bill Ryan, an ex-NYPD Detective, told Fox News on Saturday.
"You have to really wonder what the motivation of the bombers [are] is – I don't think this was one person, it was probably an organized group of people," he said.
Videos have circulated on social media showing the RV making the announcement and others that show people running and hiding for cover.
Police officers, who are being hailed as heroes, rushed to evacuate residents as the ominous messages from the RV played over and over again.
"These officers didn't care about themselves," Metro Police Chief John Drake said. "They didn't think about that. They cared about the citizens of Nashville. They went in and we'd be talking not about the debris that we have here but potential people."
The six officers are named as Officer Brenna Hosey, Officer James Luellen, Officer Michael Sipos, Officer Amanda Topping, Officer James Wells, and Sergeant Timothy Miller.
People who talk about defunding the police should think about that. These heroes risked their own lives to save others.
They did not care about the race, gender, or political party of those they were protecting. They simply did their jobs with no regard for their own safety.
—————————————-
Have a story you want USA Herald to cover? Submit a tip here and if we think it's newsworthy, we'll follow up on it.
Want to contribute a story? We also accept article submissions – check out our writer's guidelines here.