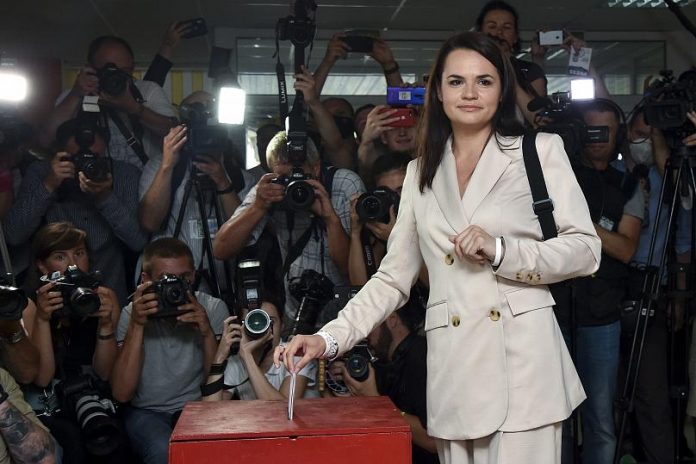 The Belarus presidential election has finally arrived with exit polls showing dictator Alexander Lukashenko leading in multiple regions across the country.
Fraught with hope and anxiety, many Belarusians view this election as an opportunity to bring fresh leadership to Belarus after decades of economic decline and political corruption. For 26 years, Alexander Lukashenko has ruled the country with an iron fist, arresting political opposition leaders and manipulating election results to maintain power.
Many feel that the tide has turned, however, with increasing domestic distaste towards the Lukashenko regime following a failed response to COVID-19 and deteriorating relations with Russia.
According to Belarus' central election commission, Lukashenko was leading in five regions across the country earning 82% of the vote. Preliminary exit polls have reinforced this claim, declaring Lukashenko with 80% of the vote.
The main opposition candidate, Svetlana Tikhanovskaya, reportedly has 6.8% of the vote following exit polls. That said, multiple Belarusian media outlets have reported that Tikhanovskaya is leading at multiple polling stations.
Following the closing of polling stations, reports have arisen of widespread internet disruption. Internet watchdog Netblocks has confirmed these reports. Furthermore, local journalists have reported that military and police personnel have shut down Minsk to prevent protests from erupting.
Earlier on election day, Lukashenko issued a stern warning to opposition protestors, "If you're going to go against our country, or even in the smallest way try to plunge the country into chaos and destabilise it, you will receive an immediate response from me," according to AP reports.
Further hints of widespread electioneering on the part of the Lukashenko have begun to pop up, including a report by Honest People, an independent election monitoring association, which claims 5,096 violations have been witnessed by observers.
To make matters worse, opposition leader Tikhanovskaya's campaign manager was detained by authorities the night before election day. Another individual with ties to the campaign, Veronika Tsepkalo, has fled to Moscow.
While election results have yet to be fully determined, it is safe to assume that Lukashenko will contest any victory on the part of the opposition. Perhaps Lukashenko will remain 'Europe's last dictator' a little while longer, which will undoubtedly come at the expense of Belarusian citizens.
The USA Herald is providing ongoing coverage of the Belarusian elections and will continue to issue further updates.
————————————————–
Have a story you want USA Herald to cover? Submit a tip here and if we think it's newsworthy, we'll follow up on it.
Want guaranteed coverage? We also offer contract journalism here.  Just be sure you're comfortable giving up editorial control, because our journalists are dogged and will follow the story through to it's conclusion. The story will be published to our exacting standards, without regard for your preferred slant.
Want to contribute a story? We also accept article submissions — check out our writer's guidelines here.