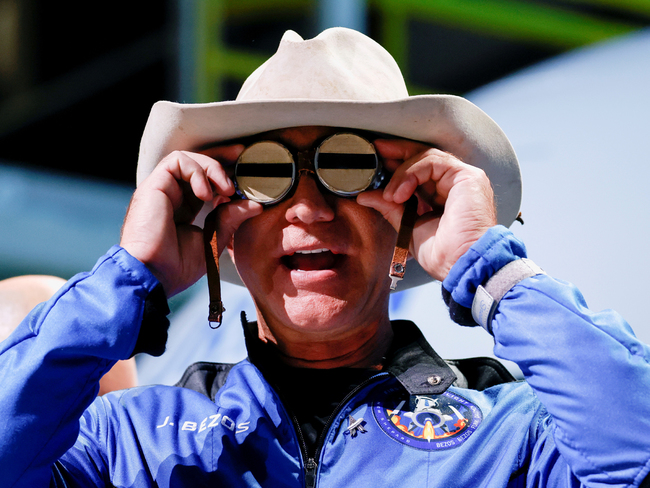 After Bezos safe return from his 10-minute 10-second flight into space, ex-Amazon CEO Jeff Bezos held a press conference. He was wearing a large cowboy hat and carrying Amelia Earhart's aviator goggles to celebrate the occasion. With this successful launch, Bezos became the second billionaire to fly in space. And Bezos had a lot to say. Some people contend he is saying the wrong things.
Bezos thanked  everyone that made the launch possible, including "every Amazon employee and every Amazon customer," assuring them that, "you guys paid for all this."Social media bashed the Blue Origin CEO's response to those comments.
The company's first crewed rocket was the New Shepard. It was carrying Bezos and his brother Mark. Also on board were the oldest and youngest people who have ever flown in low-orbit space.
Billionaire Space Race 
When Bezos announced he was headed to space, a petition got 33,000 signatures. It was named the "Do not allow Jeff Bezos to return to Earth." And the signers were all claiming that Bezos should stay in space. 
Richard Branson, CEO of Virgin Galactic out-maneuvered Bezos to be the first billionaire flying into space. Bezos announced his July 20th space mission. Then Branson launched his own rocket-powered plane 9 days before Bezos' New Shepherd took off. 
And an angry Bezos tweeted that Blue Origin was better than Virgin Galactic. Even though Virgin Galactic had flown humans into space on three occasions. And Blue Origin was still flying uncrewed missions.
In the meantime, SpaceX CEO Elon Musk is years ahead of them both in space accomplishments. 
Bezos safe return still gets backlash on Twitter
These comments received a lot of backlash across the Twitter sphere. Most commenters noted that despite Bezos safe return his statement seemed disrespectful to Amazon employees and customers alike.
Geez, I've met Amazon employees who had trouble paying for rent and food. Why would they willingly pay for the richest man in the world to have a little space jaunt? Unless…it…wasn't willingly, was it.

— SpersJR (@Frantically2) July 20, 2021
— Casey Ho (@CaseyHo) July 20, 2021