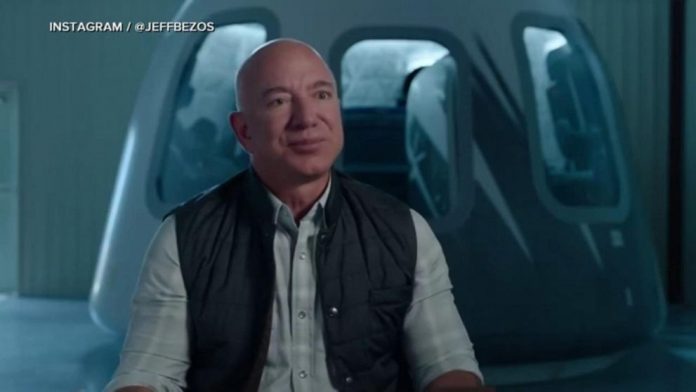 Billionaire Amazon founder Jeff Bezos, along with his brother, Mark, is scheduled to launch into space on the New Shepard rocket in July. Bezos will be flying on the "first-ever" mission planned by his space exploration company, Blue Origin.
Bezos made the announcement on June 6th. And opened up an auction for a passenger on June 10th. The winning bidder pays $28 million for flying into space with the Bezos brothers. A fourth crew member is yet to be chosen.
This will be the first time the company has attempted a space flight. And the mission is scheduled to last only 11 minutes.
The Bezos New Shepard suborbital rocket system features a reusable rocket. And it has the capacity for six human passengers in its capsule.
Many of Blue Origin's ideas sound familiar. Elon Musk's company SpaceX developed and launched a series of Falcon reusable rockets.  And they announced in April they would be sending auction winner Jared Isaacman and his crew of citizen astronauts on a mission in September. Another auction winner, Japanese billionaire Yusaku Maezawa, has booked a SpaceX trip to travel around the moon in 2023.
Jeff Bezos petition gets some laughs
Since the Bezos announcement, several petitions have gotten tens of thousands of people. One of them the "Do not allow Jeff Bezos to return to Earth" petition has 33,000 signatures and says that because he is a billionaire that Bezos should stay in space. 
Bezos has not commented on the petitions. And he claims to be excited about his journey and posted a video on Instagram.
"If you see the Earth from space, it changes you. It changes your relationship with this planet, with humanity. It's one Earth," Bezos said.
Battle of the billionaires
Elon Musk continues to lead the pack of space billionaires. SpaceX was the first private company to transport astronauts to the International Space Station (ISS). And they were the first company in the world to pioneer reusable rockets. Musk has still not announced any personal space travel plans. But SpaceX in partnership with NASA launches both manned and unmanned missions every month.
Richard Branson, the billionaire founder of the Virgin Group, has his own space program in development. The  Virgin Galactic firm touts its reusable spacecraft being planned for commercial space travel. Branson says he will be onboard one of Virgin Galactic's upcoming flights.