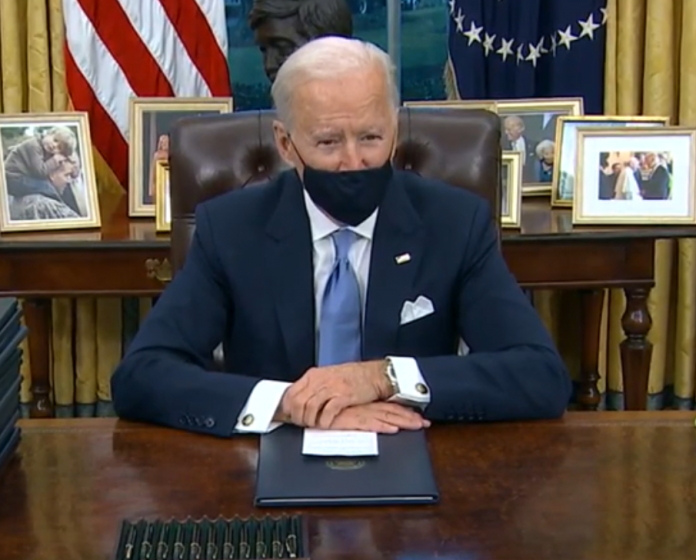 President Joe Biden confirmed that his predecessor, former President Donald Trump left him a "very generous letter" before leaving the White House on Wednesday.
After signing executive orders on the Resolute Desk in the Oval Office, Biden told reporters that Trump, "wrote a very generous letter" but did not provide details about it citing the reason it was "private."
The president added that he will only disclose the content of the letter after speaking to his predecessor. "Because it was private, I will not talk about it until I talk to him, but it was generous," Biden said.
Separately, a senior aide to 45th President told CNN that it was "was a personal note." Trump expressed his prayer for the success of the country under the care of Biden's administration.
The aide added that writing a note to the 46th president was one of the things on Trump's to do list in the Oval Office on Tuesday night.
Another person said the 45th President did not show his letter for Biden to many of his aides.
During a press briefing on Wednesday night, White House Press Secretary Jen Psaki refused to provide more details about Trump's letter for Biden. She just reiterated that the "letter was private" and its was "generous and gracious."
Psaki also emphasized that Biden has no plans to unilaterally release the Trumps letter for him.
Many were surprised that Trump maintained the tradition of wroting a note for his successor since refused to concede the election. He also decided to skip Biden's inauguration ceremony.
He is the fourth president in the history of the United States to do that.  John Adams, the second U.S. President; John Quincy Adams, the 6th U.S. President; and Andrew Johnson, the 17th U.S. President did not attend the swearing-in of their successors.
During his farewell address on Wednesday, Trump wished the "new administration great luck and success.
It is noteworthy that despite their political animosity, Biden and Trump showed on Wednesday that they still respect each other. It is a sign that unity is possible even if the country is currently deeply divided.
As Biden said in his inaugural speech, "With unity, we can do great things, important things. We can right wrongs…We can make America, once again, the leading force for good in the world."
Have a story you want USA Herald to cover? Submit a tip here and if we think it's newsworthy, we'll follow up on it.
Want to contribute a story? We also accept article submissions – check out our writer's guidelines here.