The media cheered on the peaceful transition of power to life-long, career politician President Joe Biden and to the first woman, Asian-African-American Vice President Kamala Harris. They were sworn into office on Wednesday afternoon.
Meanwhile, emotional liberals have been celebrating on Twitter with a poorly trending #NotMyPresident (referring to Trump). Mostly Democratic voters are keeping this hashtag alive on the microblogging platform– a return to the pomp and circumstance that traditional long-haul politicians are accustomed to.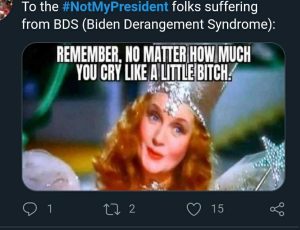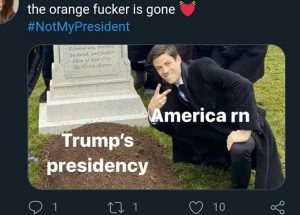 As of this writing, Republicans have not cried in the streets, needed safe spaces with coloring books or emotional support animals, set fire to anything, or frankly, paid much attention to the inauguration.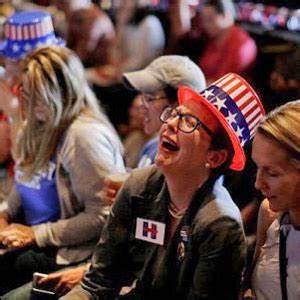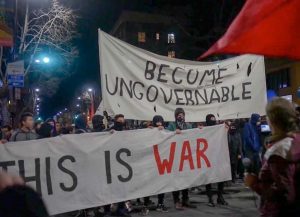 The humor found in the attempted clap-backs from Democratic voters, while others cheered a "return to normalcy," was that their target audience didn't care enough to attend or participate in Twitter arguments.
Among the posts on social media, many revolved around "Four years ago you said…"
So, taking a look back at the days surrounding President Donald J. Trump's inauguration, Republicans recall the outrageous claims and behavior of voters nationwide, as well as the meltdowns and divisiveness by media personalities.
Sources say, one, in particular, who stood out was Rachel Maddow, one of the brightest stars of MSNBC.
Big tech companies and Maddow swiftly purged and vilified conservatives' attempt to seek answers to alleged voter irregularities. However, Maddow pushed the allegations that Trump's campaign colluded with Russia almost immediately after the 45th president took his oath of office.
"Over the closing months of our presidential election and right up through the lame-duck period before the new president was sworn in, we — the American people, had dropped on us a series of news bombs about Russia influencing our election, right? There was the unconfirmed dossier of dirt on Donald Trump that the Russian government had allegedly collected and was allegedly using against him to get him to do their bidding," Maddow said during the opening segment of "The Rachel Maddow Show" on Jan. 26, 2017, less than a week after Trump's inauguration.
"That unconfirmed super inflammatory dossier of information was reportedly collected by a well-respected former MI6 British intelligence operative. It was published online last month whereupon that former British intelligence operative promptly disappeared," Maddow continued. "He took himself off the grid. His business partner said he did it for his own safety."
Much of the next two years were spent, emotionally gushing over whether or not Trump colluded with Russia. The "unconfirmed dossier of dirt on Donald Trump that the Russian government had allegedly collected" that Maddow continually referred to turned out to be labeled "unsubstantiated and unreliable" despite being promoted by the MSNBC host from the onset of Trump's presidency.
Special Counsel Robert Mueller eventually concluded in 2019 that a Trump campaign-Russia collusion didn't exist, contradicting MSNBC's daily narrative. Maddow claimed additional conspiracy theories at the time, such as that Secretary of State Rex Tillerson was a plant by Vladimir Putin. Another recurring topic was the "Secret Steele Dossier," which was set up similar to a school-aged child's T-chart. Steele's information on the left-hand side, "Corroboration/Analyst Notes" on the right.
For example, Steele put forth an allegation that Trump had stayed in the "Presidential Suite" of the Moscow Ritz-Carlton, but the spreadsheet notes that "there is no confirmation that Trump stayed here," and that "there is no 'Presidential Suite' currently listed on the Ritz Carlton website.'"
A source familiar with the document reported to Fox News that "the FBI is the preeminent law enforcement agency in the world, and this is what they were doing? There is nothing there."
Have a story you want USA Herald to cover? Submit a tip here and if we think it's newsworthy, we'll follow up on it.
Want to contribute a story? We also accept article submissions – check out our writer's guidelines here.