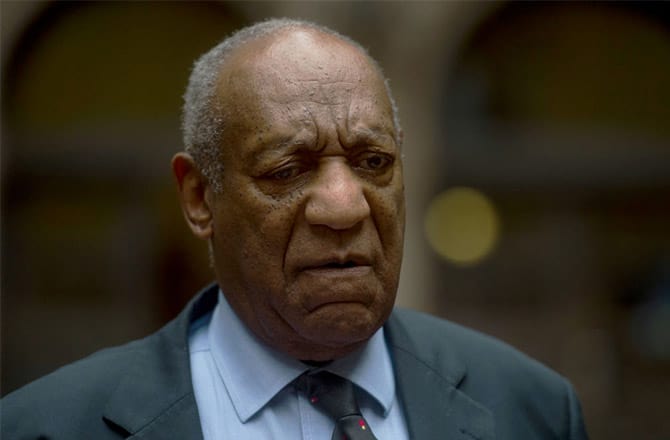 Shunned by most of his friends and family, Bill Cosby is reportedely in constant fear of someone slipping something into his food or drink to kill him.
During pre-trial hearings and jury selection in Pittsburgh, ahead of the June 5 start of his sexual assault trial in Philadelphia, the 79-year-old comedian refused to stay in local hotels because of perceived threats. Instead he woke up at 2:30 every morning to fly his private jet to the courthouse from his suburban Philly home.
"He and his wife are afraid that if he stayed at a hotel, someone will find a way to poison him, put something in his food," a source who works closely with the Cosby camp said.
"He's blind … so that makes him even more vulnerable to [being] poisoned or to having someone sneak into his room," said a second source close to the family."
Cosby — who's been accused of sexual assault by some 60 women, many of whom claimed he slipped them mickeys — even refused to drink from the courthouse fountains. Instead he toted water bottles, along with meals, from his home 300 miles away.
He's just as wary of spyware.
"He's thinking and his team is thinking, if he's put in a hotel room, someone will find out which room he's staying in and they'll put a bug or a device in the room," the source said.
As to who would eavesdrop, the comedian believes "plenty of people … would have a motive," the family source said.
Cosby's wife said she "really worries about him and she calls throughout the day to check on him," the source added.
While he leans on his family's loyalty, Cosby feels abandoned by his friends in Hollywood, the civil rights community and the media, sources said.
He feels other famous black performers like Eddie Murphy, Martin Lawrence, Chris Rock, and Sinbard have not rallied around him in support.
"He can't even pay people to come and support him," the source continued. "He's been told that agents have informed their clients that their careers would be over if they got involved.
"We're not asking anyone to testify. We are asking those whom he's helped, maybe they can call or come sit in the courtroom and see for themselves what's happening … before turning your back."
Messages left for the comedians or their reps were not returned.
Cosby has also been stung by civil rights leaders he long funded turning away, sources said.
"Jesse Jackson claims to have forgotten Bill's number and Al Sharpton won't even return his phone calls," the source inside the camp said.
"Both of them were vocal in their support of Michael Jackson and the charges against Mike involved kids," the source added. "So, is this really that toxic when you compare the two? Any other time they'd at least rally to say something about innocent until otherwise proven."
While Jesse Jackson didn't specifically address these claims, he did express to The Post last week his concern over jury selection, which ended Wednesday. Only four of the 18 jurors selected, out of a pool of 200, are black. Cosby's lawyers argued "there has been a systemic exclusion of African-Americans."
Cosby and his representatives have repeatedly attempted to meet with NBC Nightly News host Lester Holt but the network has blocked it, the Cosby camp source said.
"I know there were meetings scheduled between Cosby's team and Lester Holt. Every time we scheduled, Holt kept canceling and this kept happening," the family source said. "Finally, we were told NBC had forbidden Lester Holt to meet with or have dinner with Bill Cosby."
Messages seeking comment from NBC News and MSNBC president Phil Griffin were not returned.
Cosby is charged with drugging and assaulting former Temple University athlete Andrea Constand, then 31, in his home in 2004. He faces up to 10 years in prison if convicted. He denies the charges.
The star has been accused by up to 60 women of drugging and sexually assaulting them.
He is now an outcast, even among high-profile crisis management teams.
"Everyone says any affiliation is too toxic," the family source said of two crisis firms that jumped ship despite seven-figure agreements. "Money exchanged hands, then the excuses came."
The only celebrity name to appear on Cosby's approximately 20-person witness list is Diahann Carroll, the 81-year-old Bronx actress and Golden Globes winner who appeared on "The New Bill Cosby Show" in the 1970s. Her reps did not return messages.
Should Cosby be found Not Guilty, which is the prediction of the team here at USA Herald, we also predict that the same black leaders that are shunning Cosby will rally around him after in support.   Cosby hired the top rated criminal defense attorney in Pennsylvania, Brian McMonagle, whom has a reputation for taking on the hardest cases and winning against all odds.
Some say that up to 40% of all sexual assault claims are false.  And in this case, considering the facts, it is likely that once again the media is villifying an innocent man.   A jury will decide this case based on the facts, and until the trial, we won't know the defense's position.   Nevertheless, given the defense attorney that is involved and the facts that we are aware of, the USA Herald predicts a Not Guilty verdict.