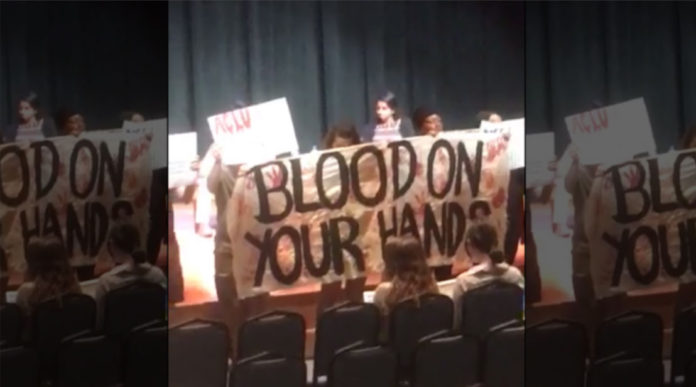 According to The Daily Wire, Black Lives Matter recently arrived at the conclusion that liberalism is white supremacy.
The ACLU Event and Black Lives Matter
Earlier this week, the ACLU held a Free Speech function which apparently didn't sit well with Black Lives Matter. They quickly shut down 'Students and the First Amendment,' screaming the following:
"ACLU, you protect Hitler, too!"
"The oppressed are not impressed!"
"The revolution will not uphold the Constitution."
"Liberalism is white supremacy!"
Shortly afterwards, Black Lives Matter held up a sign reading "Blood On Your Heads."
The leaders of 'Students and the First Amendment' had to eventually cancel the function after Black Lives Matter continued chanting. ACLU leaders allowed one of the Black Lives Matter to speak, however, the latter's outrage persisted anyway.
A Public Statement From The College of William & Mary
Following the disturbance and canceled ACLU event, The College of William & Mary released the following public statement:
"William & Mary has a powerful commitment to the free play of ideas. We have a campus where respectful dialogue, especially in disagreement, is encouraged so that we can listen and learn from views that differ from our own, so that we can freely express our own views, and so that debate can occur. Unfortunately, that type of exchange was unable to take place Wednesday night when an event to discuss a very important matter – the meaning of the First Amendment — could not be held as planned. 
Silencing certain voices in order to advance the cause of others is not acceptable in our community. This stifles debate and prevents those who've come to hear a speaker, our students in particular, from asking questions, often hard questions, and from engaging in debate where the strength of ideas, not the power of shouting, is the currency. William & Mary must be a campus that welcomes difficult conversations, honest debate and civil dialogue."
Response From The Public
The public's response to the aforementioned incident is quite diverse. Some people agreed with Black Lives Matter's actions, while others thought interrupting the event was inappropriate.
Many conservatives stated that Black Lives Matter protesting the ACLU is just another example of liberals turning on one another.