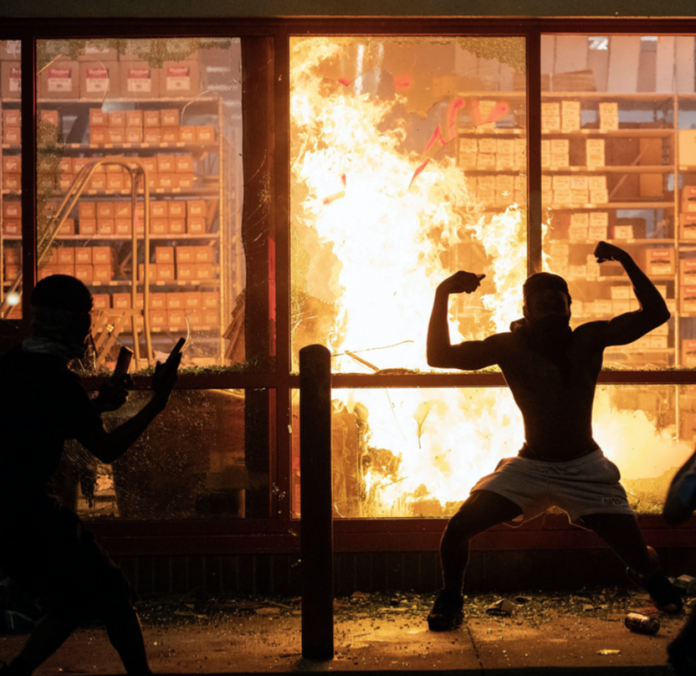 The death of George Floyd has made national headlines this week.
On Monday, Minneapolis police officers were taking Floyd into custody. During his time, one of the officers kept his knee shoved into the back of Floyd's neck. Despite Floyd stating that he couldn't breathe and later losing sentience, the officer still kept his knee on Floyd's neck, causing his death later that day.
Our state watched George Floyd's humanity get erased. Our feelings of anger, anguish, and disillusionment are justified.

— Governor Tim Walz (@GovTimWalz) May 28, 2020
Following this unfortunate circumstances, Black Lives Matter rioters promptly took to the streets on Tuesday and Wednesday. Last night's riots, however, turned especially dangerous. Countless businesses burned while Minneapolis eventually called in the National Guard due to death and destruction engendered by Black Lives Matter people.
What to Know About Wednesday Night's Riots in Minneapolis
Rioters took out their rage on the city of Minneapolis last night. Countless businesses became caught in the literal crossfires, as some stores were set ablaze. Furthermore, Black Lives Matter protesters chose to loot Target, spray graffiti on buildings, and even toss fireworks at firefighters who arrived to stop buildings from burning.
This was the scene in South Minneapolis about an hour ago. A multi-story apartment building under construction near the corner of Lake & Minnehaha caught fire, early Thursday Morning. The flames were visible from as far away as Bloomington. @KARE11 @MPRnews pic.twitter.com/45cjH5JNvH

— Dave Peterlinz (@DPet_KARE11News) May 28, 2020
Last night's riots even turned fatal, as one man was shot and killed. The person shot allegedly rioted and attempted to steal goods from a pawn shop. The owner of this pawn shop then avowedly fired at the rioter in self-defense, hence ending his life last night.
Multiple buildings burned, while social media footage caught Black Lives Matter protesters running out of stores with unpaid-for merchandise. Police officers repeatedly tried to disperse the violent crowds, but literal hours passed before the rioters backed off.
One of several businesses either burned down or broken into on Lake and Minnehaha, across the street from the third precinct. pic.twitter.com/JCZqSvOCAv

— Christiane Cordero (@ChristianeWCCO) May 28, 2020
The conduct seen above has understandably prompted criticism towards Black Lives Matter and other rioters. Many Americans are questioning how destroying, looting, and burning down stores deals with justice. Others maintain that behaviors displayed last night only detract from the issue at hand, one which Black Lives Matter claims is the death of George Floyd.
Due to the unspeakable violence last night, Minneapolis Mayor Jacob Frey urged the Minnesota governor to call in the National Guard. Likewise, Gov. Walz took to social media last night; in doing so, he urged Minneapolis residents to disperse after the escalation of riots.
The situation near Lake Street and Hiawatha in Minneapolis has evolved into an extremely dangerous situation. For everyone's safety, please leave the area and allow firefighters and paramedics to get to the scene.

— Governor Tim Walz (@GovTimWalz) May 28, 2020