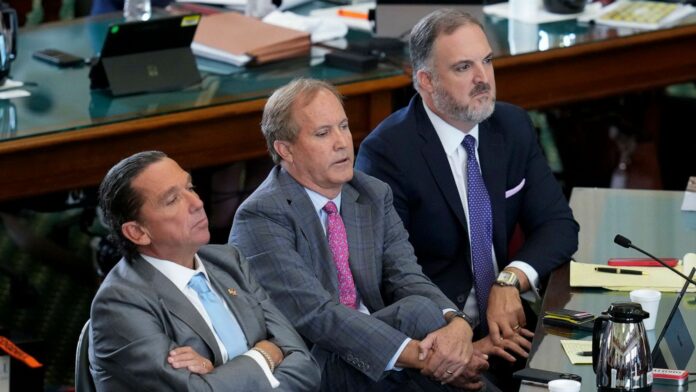 In a sensational turn of events, Republican Attorney Ken Paxton corruption trial concludes with a not-guilty verdict, strengthening the grip of the GOP's right wing on the political stage.
Despite facing serious allegations and being under the spotlight of an FBI investigation, Republican Texas Attorney General Ken Paxton walked away vindicated on Saturday. This landmark impeachment trial not only reaffirmed Paxton's political resilience but also underscored the ever-growing power of the GOP's hard-right faction, especially in a stronghold like Texas.
With the 2024 elections on the horizon, this outcome provides a nuanced glimpse into the complex dynamics and potential fissures within the Republican ranks.
Reacting to his acquittal, Paxton proclaimed, "The truth has a voice, and it can't be muffled by political adversaries or their influential allies." Interestingly, Paxton made only fleeting appearances during the fortnight-long trial, absenting himself from the final pronouncement.
Behind the Curtains of the Trial
The courtroom resonated with a mix of intense testimonies and sporadic theatricality. Accusations of Paxton's abuse of power dominated the discussions, with past associates illustrating the Attorney General's alleged attempts to shield a political benefactor facing FBI scrutiny.