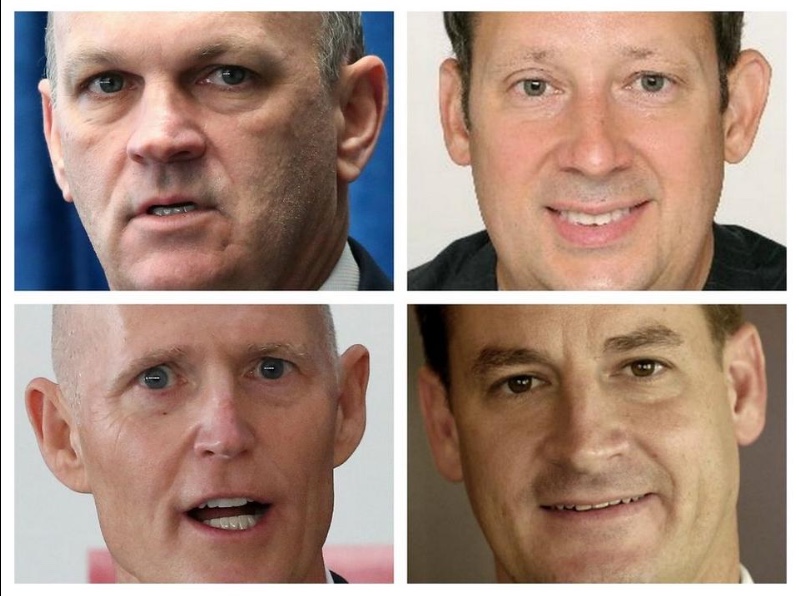 Once viewed as an "inescapable" conflict of interest, some state lawmakers are on the payroll of firms that actively lobby the Legislature.
The law firm of Becker & Poliakoff has an extensive legislative lobbying practice that netted $1 million to $2 million in 2015.
The firm employs 10 registered lobbyists who represent dozens of clients, from hospitals to electric utilities, liquor stores and city governments.
The firm also employs state Sen. Greg Steube, R-Sarasota.
As an attorney, Steube is supposed to look out for the best interests of his firm's clients. As a lawmaker, Steube is supposed to do what's in the best interest of his constituents and the people of Florida.
The Florida Bar once viewed this dual role as an "inescapable" conflict of interest, an ethical conflict so "clear" that the Bar issued a formal ethics opinion effectively prohibiting lawmakers from working at firms that lobby the Legislature.
That ethics opinion was rescinded in 1999 and now at least six Florida lawmakers — including the speaker of the House — work for law firms that lobby the Legislature, according to a Herald-Tribune analysis.
But there is renewed scrutiny of such employment.
"I think it corrupts the Legislature and it corrupts the lawyers," said Thomas Gallen, a Bradenton judge and former state lawmaker who quietly has been urging the Bar to reinstate the ethics rule.
Gallen's efforts have been rejected so far, but he gained a high-profile ally recently when Gov. Rick Scott raised the issue and recommended that lawmakers incorporate it into ethics reforms initiated by the House.
Hot topic
Ethics issues have been a hot topic in the run-up to the two month legislative session that begins March 7.
House Speaker Richard Corcoran has made ethics reform his top priority, implementing several rule changes for the chamber aimed at reining in lobbyists. He wants to go further and change the Florida Constitution to ban lawmakers and other state officials from becoming lobbyists for six years, which would be the toughest law in the nation to curb the revolving door of lawmakers becoming lobbyists.
But some have called Corcoran a hypocrite because he works for a law firm that lobbies.
"Did I miss the new House rule prohibiting legislators from working for a law firm that lobbies? I am not on the email list anymore LOL," tweeted Ray Pilon, a former GOP state representative from Sarasota, when Corcoran unveiled his ethics reform package last November.
"The issue of him being involved for a firm that lobbies speaks for itself," Pilon said recently of Corcoran. "It's just hypocritical."
Those who defend the practice of lawmakers working at lobbying firms say there are provisions in state law and legislative rules to address any conflicts of interest.
Some also argue that restricting such employment would discourage well-qualified individuals from serving in the Legislature because they would have to give up their jobs with big firms.
Powerful get jobs
Yet many of the lawmakers who work at lobbying firms obtained their current jobs after they won office. The offers from the big firms came as the lawmakers were amassing clout, raising the question of whether the firms are simply trying to get inside access to powerful state leaders.
Until recently, both of Florida's top legislative leaders worked at law firms that lobby the Legislature.
Senate President Joe Negron quit his job last month, citing the desire to remove any potential conflict of interest between his legislative duties and his legal job. Negron is pushing a bill aimed at cleaning up polluted water from Lake Okeechobee so it does not foul estuaries, including one in his home district. Gunster, his former law firm, has done legal work for a sugar company that has a big stake in such legislation.
Among the other lawmakers who work for lobbying firms are Rep. Chris Sprowls and Rep. Jose Felix Diaz, attorneys who have top leadership positions in the House. Sprowls is in line to be House speaker. Diaz is considered a possible candidate for Florida attorney general in 2018.
The list of former state lawmakers who worked for lobbying firms includes U.S. Sen. Marco Rubio and Dean Cannon, both former House speakers. Cannon also happens to be the lawyer responsible for pushing the Bar to rescind the ethics opinion that effectively prohibited lawmakers from working at lobbying firms.
Cannon argued the ethics opinion prevented "qualified" individuals from embarking on legislative careers.
"The unfortunate practical effect of Florida Bar Ethics Opinion 67-5… is that it prevents qualified attorneys from pursuing seats in the Florida Legislature if they work for a law firm that does any lobbying whatsoever," Cannon wrote in a 1998 letter to the Bar.
Cannon's efforts to roll back an ethics provision first adopted by the Bar in 1960 and reaffirmed in 1967 allowed him to keep his job at the high-powered GrayRobinson firm — which employed 22 legislative lobbyists during Cannon's final year in the House — while he served in the Legislature. Now, he runs the firm's Tallahassee lobbying team and is one of the top lobbyists in the Capitol.
Big money
Working for a big law firm that lobbies can be very lucrative for a legislator.
Rubio never made more than $96,000 as a lawyer until 2004, the year after fellow legislators chose him to be speaker for the 2007 and 2008 sessions.
The House speaker is one of the three most powerful positions in state government. Soon after he secured the spot, Rubio took a job making $300,000 per year at Broad & Cassel, a politically connected statewide firm that now employs Corcoran. The firm has a small legislative lobbying practice but also represents a range of clients with issues tied to state government.
Corcoran, who served as Rubio's chief of staff when Rubio was speaker, once had his own firm, Corcoran Law Firm, P.A. In 2010, the year he was elected to the House, Corcoran made $95,000 at his firm. He subsequently landed a job at Broad & Cassel, which paid him $175,000 in 2015.