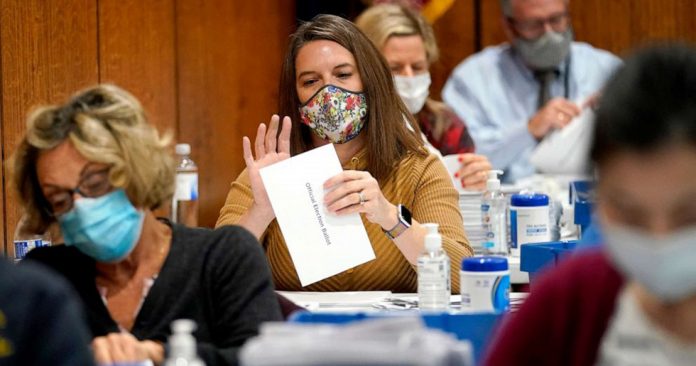 Another day and another batch of votes in Georgia that ridiculously favored former Vice President Joe Biden have been found.
Chairman of the Georgia Republican Party David Shafer announced on Twitter another "mistake" that has been found.
"One of our monitors discovered a 9,626 vote error in the DeKalb County hand count. One batch was labeled 10,707 for Biden and 13 for Trump – an improbable margin even by DeKalb standards. The actual count for the batch was 1,081 for Biden and 13 for Trump," he said.
"Had this counting error not been discovered, Biden would have gained enough votes from this one batch alone to cancel out Trump's gains from Fayette, Floyd, and Walton.
"We were limited to 1 monitor for every 10 counting tables and we were kept some distance from the tables. There is no telling what we missed under these unreasonable restrictions. The miscounted batch had been signed off by two official counters," he said.
And it gets even more insane. Had the voting error not been found Biden would have had a margin of victory greater than some of the world's most prolific dictators.
"Biden's margin of victory in this batch of votes (99.9%) bested Bashar al-Assad's 2007 margin (97.6%) and Raul Castro's 2008 margin (99.4%). It matched Kim Jong-il's 2009 margin (99.9%).
"Our attorneys have turned over an affidavit from our monitor to the Secretary of State and requested an investigation," he said.
This is the third major error in three days found in the state of Georgia and has many people questioning the validity of the Biden victory in the state.
On Tuesday 3,000 uncounted ballots, which broke in favor of President Donald Trump, were found in Georgia.
The day before that, Monday, more uncounted ballots were found that gave the president a net gain of 800 votes.
These ballots and mistakes are being discovered during a recount and many are wondering how many more "errors" and "mistakes" are going to be found.
This is a good reason that there should be an audit of the votes, not only in Georgia but everywhere there is suspicion.
If Biden won fair and square then the citizens should know that and have it proven to them so that they can support the president.
As it stands Reuters has reported that half of Republicans believe that Biden and the Democrats stole the election and that is not good for the nation.
And if Biden did not win fair and square the citizens also need to know that. Trusting that our elections are free and fair is a pillar of our nation.
—————————————-
Have a story you want USA Herald to cover? Submit a tip here and if we think it's newsworthy, we'll follow up on it.
Want to contribute a story? We also accept article submissions – check out our writer's guidelines here.