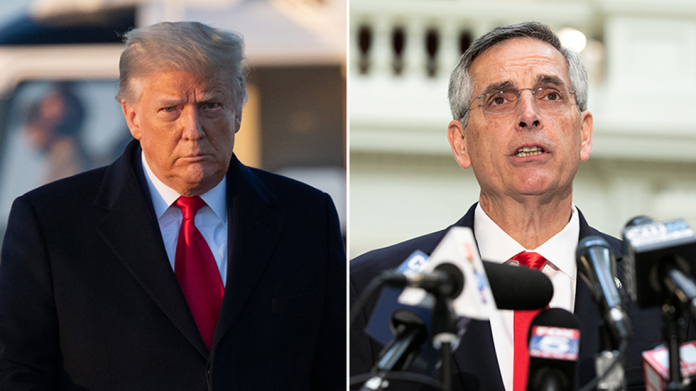 Many people doubt the electability of Georgia Secretary of State Brad Raffensperger for re-election in 2022.
"He's toast," said Jay Williams, a Georgia-based Republican strategist. "I don't know that there's a single elected official who would put their neck out for Brad Raffensperger right now."
Jason Shepherd, chair of Cobb County Georgia Republican Party, says friends who are "completely uninvolved in politics" tell him "there's no way they're voting to reelect Raffensperger."
Shepherd explained, the doubt comes into play when people, wholly uninvolved in politics, know then name of the secretary of state.  "I don't want to say there's zero chance, but at this point right now, it's nearly impossible to find anyone in the party who supports the reelection of Raffensperger," he continued.
Raffensperger is known for rejecting pressure from then President Trump. He stood firm on certifying President Biden, as the winner of the race, after a hand recount. He also defended the integrity of Georgia's 2020 election over claims of voter fraud.
Meanwhile, former President Trump is working to defeat Raffensperger. The state legislature in Georgia voted to strip some of his power. Then last week, a Republican congressman Jody Hice of Georgia announced he will challenge Raffensperger in the primary. 
Raffensperger Re-Election is a Litmus Test
Georgia Secretary of State Brad Raffensperger is a symbol for the "Never Trumpers" and old-school Republicans.
"Raffensperger is not just somebody running in a Republican primary," says Sarah Longwell. Longwell is the publisher of the Bulwark blog and founder of the Republican Accountability Project. RAP is an anti-Trump group trying to promote non-MAGA Republicans. They have billboards advertising their efforts "To save the soul of the Republican Party"
Longwell backs Raffensperger. "He is being primaried by Jody Hice. She has been an election truther."
RAP, through an umbrella organization, pledged $50 million. This donation is to back Republicans who voted to impeach Trump or supported the impeachment during campaigning.
Not everyone in the state is convinced Raffensperger's political career is over. Some still believe he has a future regardless of the hostility within his own party.
Politico reports Raffensperger was a "conventional Republican politician whose down-ballot election in 2018 went largely unnoticed outside his own state."
But after the Georgia Secretary of State's widely reported conflicts with Trump, over the state's vote count, the landscape changed. Now, Georgia is "one of the most consequential states of the election cycle. It's implications for the GOP in every state and at all levels of government may be impacted."
Raffensperger's reelection campaign may be one of the major indicators for what direction the Republicans are heading post-Trump. It will also test the idea the former president can take down his critics from the 2020 election.
According to the Atlanta Journal-Constitution poll in January Raffensperger is the most popular Republican in Georgia. He is supposedly more popular than Kemp or Trump. And he has added a number of Democrats as fans.
Georgia Republicans have Questions for Raffensperger 
Some are still claiming Raffensperger has plenty of time to turn things around. But the Georgia Republican Party isn't sitting quietly on the sidelines.
The state executive committee sent a public call-out to Raffensperger. They requested him to repudiate his staff for misquoting a January 2 phone call with Trump. Tapes confirm Trump was asking a Georgia elections official to look for  "dishonesty" in the vote.
The party claims the Secretary of State "dodged repeated attempts" by committee members to discuss the issue.
Officially, Raffensperger's responsibilities have been legally downsized. On March 25th, the Republican-controlled state legislature enacted a law, signed by Gov. Brian Kemp, removing the secretary of state as the chairman of the state election board chair. The state legislature will approve the next person to assume the role.
The law puts control of the five-person board in the hands of the state legislature. The law also enables the state election board the right to suspend county election officials.
Raffensperger Opposes H.R. 1
Raffensperger joins the chorus of Republicans opposing H.R. 1, or the For the People Act, congressional Democrats' legislation drastically remakes most aspects of federal elections.  And he writes in an op-ed in USA Today which says the bill makes "reckless demands of Georgia's elections system."
Raffensperger is publicly critical of what he claims are Trump's falsehoods in the 2020 election. In his op-ed, he calls out Democrat Stacey Abrams for the same rhetoric. He said, "a federal takeover would make future elections dysfunctional. It would also fuel baseless claims of stolen elections from people like Stacey Abrams."
The left said that photo ID for in-person voting would suppress votes. It didn't. Registration and turnout soared, hitting new records with each election cycle.

— GA Secretary of State Brad Raffensperger (@GaSecofState) March 26, 2021
Congressman Jody Hice of Georgia has announced he will challenge Raffensperger. Trump instantly endorsed him.
Hice isn't Raffensperger's only primary challenger. David Belle Isle, former mayor of Alpharetta lost to Raffensperger in a 2018 runoff for the nomination. He announced another run in 2022. Additionally, Democrats are lining up for a general election claim.
Right now chances for reelection are, at best, a long-shot.