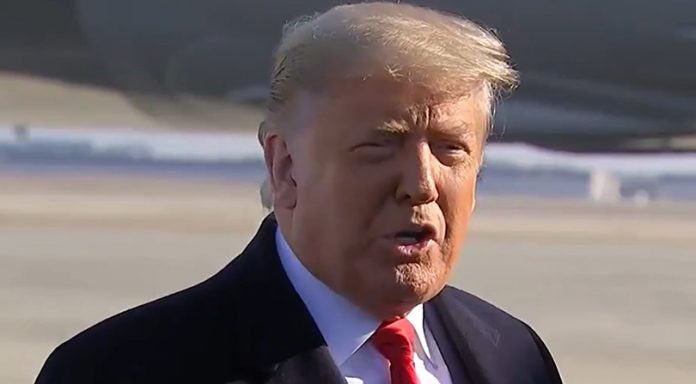 On Monday, the Georgia Secretary of State's office opened an inquiry to review a phone call between former President Trump and Secretary of State Brad Raffensperger.
On January 2, former President Trump allegedly contacted Secretary Raffensperger requesting he 'find' enough votes to overturn Trump's loss in the state.
"Walter Jones, spokesman for Secretary of State Raffensperger confirmed to the investigation," the Daily Mail reported.
"The Secretary of State's office investigates complaints it received," Jones said. "The investigations are fact-finding and administrative in nature. Any further legal efforts will be left to the Attorney General."
The office's investigation is the result of a complaint made by George Washington University Law School professor John Banzhaf III, according to the filing.
In an emailed press release from Jan 4, Banzhaf said he filed a complaint with the secretary of state's office "requesting this matter be fully investigated." He demanded that action be taken to the fullest extent appropriate.
The Daily Mail reported:
"The complaint suggests Trump may have committed one or more violations of Georgia law, including conspiracy to commit election fraud, criminal solicitation to commit election fraud and intentional interference with the performance of election duties, the release says."
"Investigators will present their findings to the state election board, which will then decide how to proceed."
"If the board believes there's evidence that a crime occurred, it could take action ranging from issuing a letter of reprimand to referring the case to Georgia's attorney general."
Transcript of the Phone Call
Meadows: Ok. Alright. Mr. President, everyone is on the line. This is Mark Meadows, the chief of staff. Just so we all are aware. On the line is secretary of state, and two other individuals. Jordan and Mr. Germany with him. You also have the attorneys that represent the president, Kurt and Alex and Cleta Mitchell — who is not the attorney of record but has been involved — myself and then the president. So Mr. President, I'll turn it over to you.
Trump: OK, thank you very much. Hello Brad and Ryan and everybody. We appreciate the time and the call. So we've spent a lot of time on this and if we could just go over some of the numbers, I think it's pretty clear that we won. We won very substantially in Georgia. You even see it by rally size, frankly. We'd be getting 25-30,000 people a rally and the competition would get less than 100 people. And it never made sense.
But we have a number of things. We have at least 2 or 3 — anywhere from 250-300,000 ballots were dropped mysteriously into the rolls. Much of that had to do with Fulton County, which hasn't been checked. We think that if you check the signatures — a real check of the signatures going back in Fulton County you'll find at least a couple of hundred thousand of forged signatures of people who have been forged. And we are quite sure that's going to happen.
Another tremendous number. We're going to have an accurate number over the next two days with certified accountants. But an accurate number but its in the 50s of thousands— and that's people that went to vote and they were told they can't vote because they've already been voted for. And it's a very sad thing. They walked out complaining. But the number's large. We'll have it for you. But it's much more than the number of 11,779 that's — The current margin is only 11,779. Brad, I think you agree with that, right? That's something I think everyone — at least that's' a number that everyone agrees on.
But that's the difference in the votes. But we've had hundreds of thousands of ballots that we're able to actually — we'll get you a pretty accurate number. You don't need much of a number because the number that in theory I lost by, the margin would be 11,779. But you also have a substantial numbers of people, thousands and thousands who went to the voting place on November 3, were told they couldn't vote, were told they couldn't vote because a ballot had been put on their name. And you know that's very, very, very, very sad.
We had, I believe it's about 4,502 voters who voted but who weren't on the voter registration list, so it's 4,502 who voted but they weren't on the voter registration roll which they had to be. You had 18,325 vacant address voters. The address was vacant and they're not allowed to be counted. That's 18,325.
Smaller number — you had 904 who only voted where they had just a P.O. — a post office box number — and they had a post office box number and that's not allowed. We had at least 18,000 — that's on tape we had them counted very painstakingly — 18,000 voters having to do with [name]. She's a vote scammer, a professional vote scammer and hustler [name]. That was the tape that's been shown all over the world that makes everybody look bad, you me and everybody else.
Where they got — number one they said very clearly and it's been reported they said there was a major water main break. Everybody fled the area. And then they came back, [name] and her daughter and a few people. There were no Republican poll watchers. Actually, there were no Democrat poll watchers, I guess they were them. But there were no Democrats, either and there was no law enforcement. Late in the morning, they went early in the morning they went to the table with the black robe, the black shield and they pulled out the votes. Those votes were put there a number of hours before the table was put there. I think it was, Brad you would know, it was probably eight hours or seven hours before and then it was stuffed with votes.
They weren't in an official voter box, but they were in what looked to be suitcases or trunks, suitcases but they weren't in voter boxes. The minimum number it could be because we watched it and they watched it certified in slow motion instant replay if you can believe it but slow motion and it was magnified many times over and the minimum it was 18,000 ballots, all for Biden.