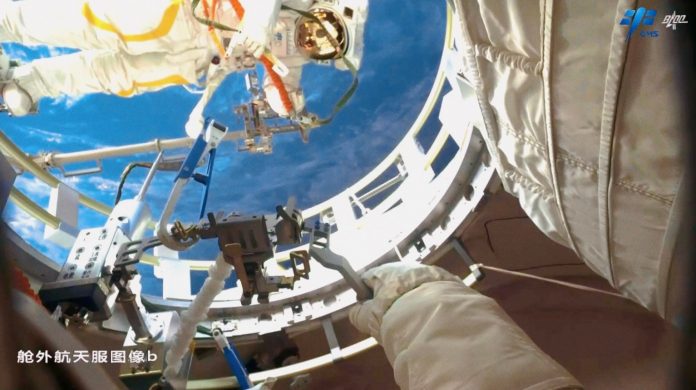 The China Aerospace Science and Technology Corporation (CASC) announced that the Chinese astronauts based at the Tiangong Space Station completed another spacewalk. The three-person mission has been working to put the final touches on the new Chinese long-term orbiting space station.
The Chinese astronauts were led by Commander Chen Dong. And his crew includes Liu Yang, 43, the first woman Chinese astronaut, and Cai Xuzhe, 46, making his first space flight.
This was the second spacewalk during the Shenzhou 14's six-month mission. Three weeks ago, Liu and Chen conducted the first spacewalk.
Last week Liu Yang operated the robotic arm during the spacewalk. And providing support to her crew from inside the lab.
China Manned Space Agency announced last week that two spacewalking Chinese astronauts Cai Xuzhe and Chen Dong installed pumps. And placed a new handle on the exterior hatch door for emergency access. A foot-stop to fix an astronaut's feet to a robotic arm was also mounted.
The "extravehicular activities" were monitored on a big screen by the Beijing Aerospace Control Center in Beijing. The space efforts are funded by the Chinese Communist Party and carefully monitored by the military.
The busiest astronauts ever are working to complete the three-module structure to join the existing Tianhe with the 23-ton module, "Wentian" which arrived in July. And they will add another laboratory module named "Mengtian" in October. And the Tianzhou-3 cargo craft is still docked with the station.
The astronauts will be joined by another crew of three. This will be the first time the station has had six people on board.
Space Race continues with Chinese astronauts
China was the third nation to send a person into space in 2003. They came after the Soviet Union and the United States. It has also sent rovers to the moon and Mars. And structured missions to bring lunar samples back to Earth.
China now maintains an aggressive schedule to build its space station. They launched the new permanent orbiting station in April 2021. Because they claimed they were being excluded by the U.S. from the International Space Station.
US officials allege that a myriad of strategic challenges will result from China's space ambitions. And the new space race is almost like the U.S.-Soviet rivalry during the race to the moon in the 1960s.
China became the third nation to send a person into space in 2003, following the former Soviet Union and the United States. It has sent rovers to the moon and Mars and brought lunar samples back to Earth.
The current Shenzhou mission by the spacewalking crew onboard Tianhe is China's longest mission to date. 
Working largely independent of the rest of the world, China has pushed ahead with its Tiangong space station program. They built and then abandoned two experimental stations before the latest lab was developed.