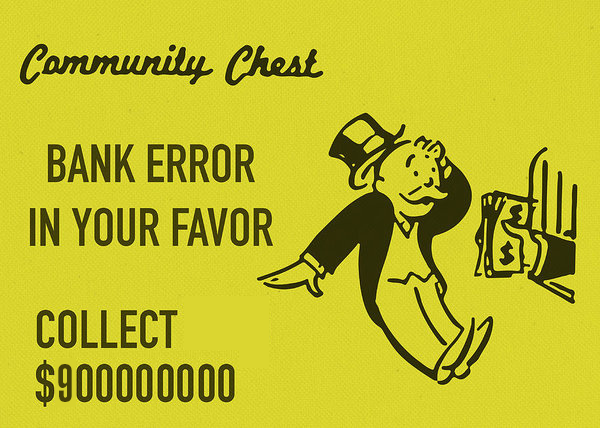 Citigroup scored a victory in the form of a temporary court order freezing $175 million that Brigade Capital Management failed to return to the bank. The money is part of more than $900 million was accidentally transferred to Brigade and others as a loan payment on behalf of Revlon.
On Monday, the Mayer Brown law firm filed a breach-of-contract lawsuit in the New York Southern District Court on behalf of Citibank. 
An estimated $900 million, the amount of the full principal value of the loan, including accrued interest was sent to the lenders' bank accounts last week. Citigroup wired the payments, in error, to about 40 funds that use Brigade as an investment manager, the lawsuit claims.
Citigroup said it was supposed to make an interest payment on Revlon's behalf but, because of a clerical error, instead sent 100x more than the payment should have been.
Some of the funds were returned to Citigroup, others including Brigade Capital Management, HPS Investment Partners, and Symphony Asset Management have declined to return the money, since Revlon has been in default of several of their loans and the money was owed anyway. 
As the situation continues to escalate, Citigroup filed new lawsuits on Wednesday against HPS Investment Partners and Symphony Asset Management for allegedly refusing to return the money sent in error to the entities.
The Citigroup suits 
The case is Citibank NA v Brigade Capital Management, 20-cv-6539, U.S. District Court, Southern District of New York (Manhattan). 
Citigroup's claims that 
"despite crystal-clear evidence that the payments were made in error," Brigade is keeping the funds. 
They also maintain that Brigade "should have known that a surprise repayment of principal could not be made under the governing credit agreement." 
"And it was well aware that virtually no company, let alone a distressed retail and consumer company such as Revlon, would ever make such a substantial repayment while dealing with the significant financial consequences caused by the ongoing pandemic," they added. 
The order to freeze the funds came after Tuesday's hearing in which Brigade told U.S. District Judge Jesse Furman it isn't a Revlon lender, and that it doesn't have the $175 million. 
Brigade responds that the lenders were "lawfully owed every penny" transferred by Citigroup in Revlon's name. Therefore it couldn't have known the payments were a mistake.
According to Brigade attorney, Robert Loigman, the bank suit against Brigade is "for strategic reasons," since the disputed funds have already been distributed to the actual lenders.
The two will be back in court today as the judge determines the next step in the complex legal battle. Citigroup's request for an injunction forcing Brigade to return the money while the case proceeds is being reviewed.
Citigroup began the process of briefing bank regulators who will be expecting an explanation for how a clerical error caused $900 million in payments to be distributed to Revlon's lenders amid a bitter fight between the cosmetics company and its creditors.
Citigroup is still facing scrutiny from the Office of the Comptroller of the Currency (OCC) and the Federal Reserve in what has been described by insiders as a "clerical error." 
Bank regulators won't settle the dispute, instead their role will be to assure that any errors at the New York-based bank won't be repeated.
$900M error complicates Revlon showdown
Revlon and its primary investors, Ron Perelman's MacAndrews & Forbes, were struggling to remain relevant in the cosmetics market. By mastering social media, Estee Lauder and other smaller companies were leaving Revlon with a declining market share and shrinking sales. 
Revlon is nearly $3 billion in debt and the pandemic has hit the company hard. It has been trying to restructure its debt.
It is no coincidence that Brigade Capital Management, HPS Investment Partners, and Symphony Asset Management are holding on to the Citicorp paymnets. They were part of the lender group involved in a lawsuit regarding tactics Revlon used in its debt restructuring. 
Because of this lender suit, Citigroup had already started the process of resigning from its administrative role. In the meantime, Citigroup has recovered less than half of the money.
Vincent Indelicato, a partner at the law firm Proskauer Rose LLP, and member of the restructuring and bankruptcy practice, said, "You need a pretty big eraser on your pencil for a $900 million mistake."
Representatives for Brigade, Citigroup, and the regulators are declining to comment on Tuesday's ruling.
————————————————–
Have a story you want USA Herald to cover? Submit a tip here and if we think it's newsworthy, we'll follow up on it.
Want guaranteed coverage? We also offer contract journalism here.  Just be sure you're comfortable giving up editorial control because our journalists are dogged and will follow the story through to the conclusion. The story will be published to our exacting standards, without regard for your preferred slant.
Want to contribute a story? We also accept article submissions — check out our writer's guidelines here.