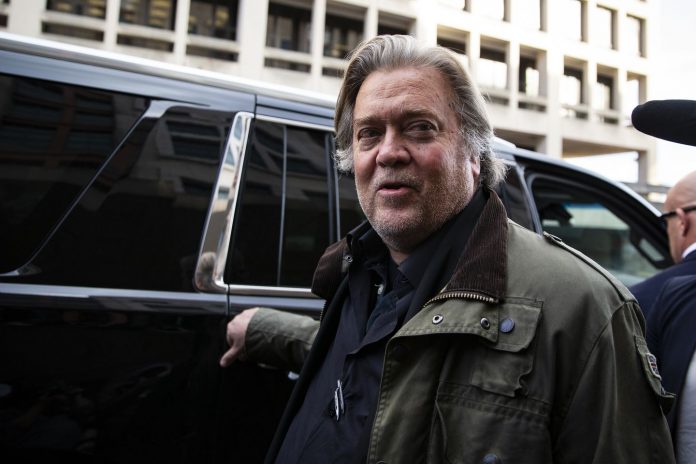 On Thursday, Aug. 20, former Trump political advisor and chief strategist Steve Bannon and three others were arrested and indicted for their involvement in a two-year long fraudulent fundraising scheme. 
Bannon and the three other leaders of the "We Build the Wall" 501(c)(4) campaign were charged with defrauding donors who raised $25 million for the online campaign and are looking at a four-year maximum of prison time. Those arrested included Bannon, Brian Kolfage, Andrew Badolato and Timothy Shea. 
Kolfage is a triple-amputee war veteran, known for his noble service in Iraq. In September 2004, during Kolfage's second deployment to Iraq, a 107 mm rocket shell exploded about 3 feet from him, throwing him several feet and against a wall of sandbags. 
Badolato and Bannon are connected by years of suspicious political activity and Badolato is no stranger to fraud related crimes. The self-proclaimed entrepreneur is tied to years of financial crimes and mob related activities.
Badolato helped the FBI develop extortion charges for Luis Caputo, tied to the Gambino family and in 2009, his company Industrial Biotechnology Corporation was discovered to be a pump-and-dump scheme. 
"I conspired with individuals including Andrew Badolato to commit securities fraud and commercial bribery," said Jonathan Curshen, a man related to the crimes, in a New York court. 
Timothy Shea is the Acting Administrator of the Drug Enforcement Administration. Previously, he served as the interim U.S. Attorney for D.C. and was a senior advisor to U.S. Attorney General William Barr. 
"This case should serve as a warning to other fraudsters that no one is above the law, not even a disabled war veteran or a millionaire political strategist," said Inspector-in-Charge Philip R. Bartlett. 
Acting U.S. Attorney Audrey Strauss said in a statement that the campaign promised hundreds of thousands of donors that money would be spent on construction of Trump's southern border wall, reassuring the public that Kolfage would not be compensated for his work on the campaign.
Strauss, with the help of the United States Postal Inspection Service, discovered that Kolfage did use donations to fund a "lavish lifestyle".
Kolfage's website says the "'We Build the Wall' organization is dedicated to building private sections of the wall along the U.S.-Mexico border. Since its launch, the organization has completed its first two construction sections and aims to build a total of 100 miles of wall along the border."
The Indictment unsealed in Manhattan federal court told a very different story, citing that Bannon, Kolfage, Badolato and Shea received hundreds of thousands of dollars from the campaign. Kolfage took over $350,000 and Bannon over $1 million. 
Their plan to conceal the payments was to use an undisclosed non-profit under Shea's control and a shell company. They allegedly created fake invoices and fake vendors to distribute the money. Kolfage said the arrangement information was on a "need to know" basis. 
"The defendants allegedly engaged in fraud when they misrepresented the true use of donated funds. As alleged, not only did they lie to donors, they schemed to hide their misappropriation of funds by creating sham invoices and accounts to launder donations and cover up their crimes, showing no regard for the law or the truth," said Bartlett. 
The case is assigned to U.S. District Judge Analisa Tores in the Southern District of New York and is being handled by the Office's Public Corruption Unit. Assistant United States Attorneys Nicolas Roos, Alison G. Moe, and Robert B. Sobelman make up the prosecutorial team.  
Currently, each man is charged with one count of conspiracy to commit wire fraud and one count of conspiracy to commit money laundering. Each count carries a maximum of 20 years in prison, putting the men at a maximum of 40 years. 
————————————————–
Have a story you want USA Herald to cover? Submit a tip here and if we think it's newsworthy, we'll follow up on it.
Want guaranteed coverage? We also offer contract journalism here.  Just be sure you're comfortable giving up editorial control because our journalists are dogged and will follow the story through to the conclusion. The story will be published to our exacting standards, without regard for your preferred slant.
Want to contribute a story? We also accept article submissions — check out our writer's guidelines here.