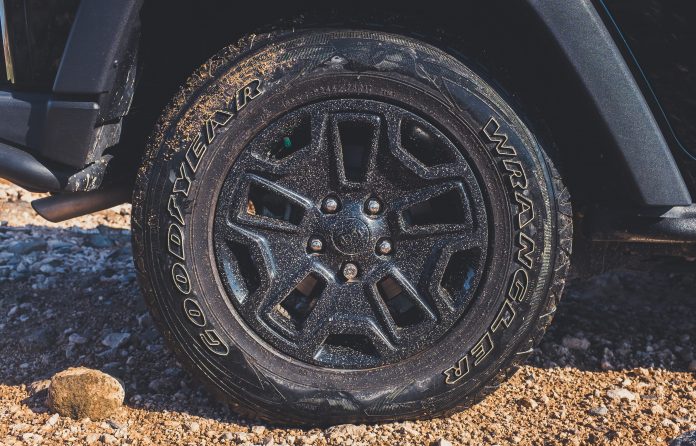 Goodyear Tire & Rubber Co. reported significant losses on Wednesday following a tweet from President Trump calling for a complete boycott of the company for prohibiting employees from wearing MAGA or Blue Lives Matter apparel while Black Lives Matter apparel is allowed.
Don't buy GOODYEAR TIRES – They announced a BAN ON MAGA HATS. Get better tires for far less! (This is what the Radical Left Democrats do. Two can play the same game, and we have to start playing it now!).

— Donald J. Trump (@realDonaldTrump) August 19, 2020
"Don't buy GOODYEAR TIRES – They announced a BAN ON MAGA HATS, get better tires for far less!", Trump said on Wednesday morning.
Goodyear shares fell 5.86% while rival competitor Bridgestone Corp. saw its shares rise by 1.42%. While it's difficult to make a causal link, the president clout with his supporters shouldn't be underestimated.
The spat began after Topeka-based WIBW-TV reported on an employee complaint claiming that Goodyear was being discriminatory towards Trump and Blue Lives Matter supporters by limiting their expression in the workplace.
This turned out to be more than just a claim, however. A photo was included with the report showing a PowerPoint slide in the company's diversity training program which labels MAGA, Blue Lives Matter, All Lives Matter, and other politically affiliated slogans or materials as unacceptable.
In contrast, Goodyear deems Black Lives Matter and LGBTQ+ apparel acceptable under its zero-tolerance policy.
Since Trump's tweet, the tire giant has rushed into the fray decrying the President's claim that the company is discriminatory towards views it does not like by claiming its policies have been mischaracterized.
The company's official statement on the issue reads as follows:
"We ask that associates refrain from workplace expressions in support of political campaigning for any candidate or political party as well as similar forms of advocacy that fall outside the scope of racial justice and equity issues."
Further adding, "After hearing concerns that it had taken an anti-law enforcement stance," Goodyear clarified that it "has always supported both equality and law enforcement and will continue to do so. These are not mutually exclusive."
Yesterday, Goodyear became the focus of a conversation that created some misconceptions about our policies and our company. Goodyear has always wholeheartedly supported both equality and law enforcement and will continue to do so. pic.twitter.com/oO6jUg2rTR

— Goodyear (@goodyear) August 19, 2020
The President's call for a boycott of Goodyear products is not the first time the political realm has reached into the private sector. Just recently, Goya Foods was attacked by the Left for its CEO praising Trump.
————————————————–
Have a story you want USA Herald to cover? Submit a tip here and if we think it's newsworthy, we'll follow up on it.
Want guaranteed coverage? We also offer contract journalism here.  Just be sure you're comfortable giving up editorial control because our journalists are dogged and will follow the story through to the conclusion. The story will be published to our exacting standards, without regard for your preferred slant.
Want to contribute a story? We also accept article submissions — check out our writer's guidelines here.