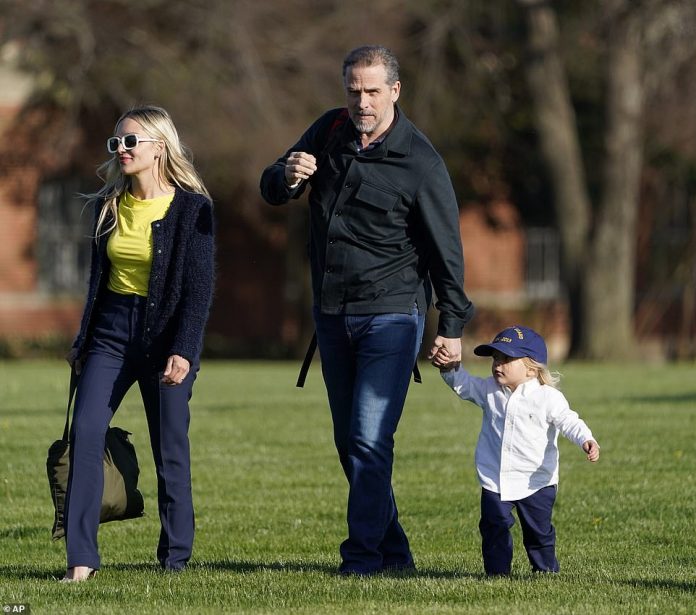 On Tuesday Hunter Biden filed to slash his child support in an Independence County Alabama court. President Joe Biden has never met his granddaughter, Navy Jone. And Hunter, 52, has never wanted to meet his daughter. But he would like to get the child support reduced, claiming a substantial change to his "financial circumstances," including but not limited to his income." per the court documents.
Brent Langdon, Hunter's attorney, asked an Arkansas judge to recalculate his child support payments using the updated Revised Administrative Order 10. Hunter is filing the action in the same jurisdiction where his daughter and her mother, Lunden Roberts reside. 
Child Support case
Hunter is claiming his income is greatly reduced. And since the documents are sealed it is uncertain what he is currently paying.
Within the last year, the first son was a high-end artist at a New York gallery where he sold at least 5 of his pieces of art for $75,000 each. 
Last year Hunter also published a memoir "Beautiful Things" for which he received a $2 million book deal. The sales have reportedly been poor.
In 2020, Biden became a father for the fifth time when his second wife, Melissa Cohen gave birth to Beau Biden, Jr. And they live in a $2.5 million home in Hollywood Hills.
Hunter Biden's financial problems seem to mirror 2019 when he was sued by Roberts. Hunter denied that he had ever had sex with the former stripper. But later settled out of court a DNA test confirmed the little girl was his.
The first son out of funds again
During the child support battle more of Hunter's finances and business activities will be under scrutiny.
Clint Lancaster, Roberts' attorney, expressed doubt over Hunter's poverty claims. And claims, "Ultimately, this is going to require us to look deeply, more deeply, into Hunter's finances."
The attorney insists, "I'm going to want to have a deposition with Mr. Biden. Like last time, I'm going to bring my forensic accountant to the deposition, unless the judge tells me I can't."
"Unless he's going to pay me to fly to California to take his deposition, he's going to have to come to Arkansas," he added.
Hunter, who initially denied ever having sex with Roberts, later settled out of court after a DNA test confirmed Navy Joan was his child.
The pair met when Roberts was working in a Washington, DC, strip club and Hunter was dating his brother Beau's widow, Hallie Biden.
Never ending Scandals 
The Biden family has long been plagued by scandals. Many of them have been covered up or censored like the Hunter Biden laptop story that was hidden from voters in 2020 by Big Tech.
Earlier, this year a grand jury was convened surrounding Hunter's finances. In March, Robert's lawyer, Lancaster made a public statement that he believed that Hunter would be indicted. 
Lunden, who was a college basketball star before her stint as a stripper, spoke publicly for the first time to the New York Post. 
"I never said that I thought Hunter would be indicted — my attorney did," Roberts claimed. "His comment to the media was without my authorization I might add." 
"I have never opined on Hunter's financial affairs to anyone and do not anticipate doing so."
Roberts, 31, emphasized, "I remain solely focused on the safety and well-being of our child."