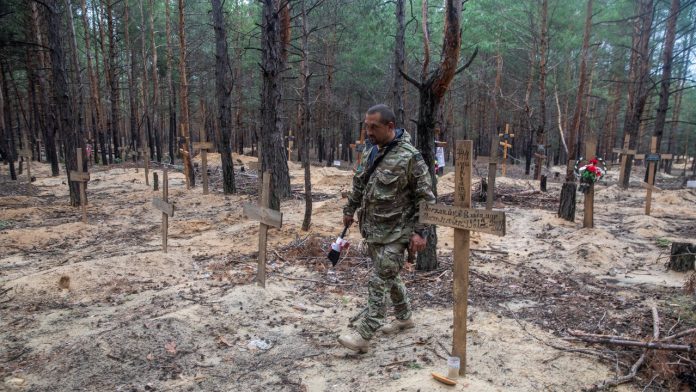 On Friday Ukrainian President Volodymyr Zelensky accused Russia of war crimes in Ukraine's northeast. And talked about the mass graves found in Izyum. 
"As of today, there are 450 dead people buried. But there are others, separate burials of many people. Tortured people. Entire families in certain territories," Zelensky claims. He said entire families were killed and a lot of the dead had been tortured.
In a Reuters interview, the President likened the aftermath in the areas recaptured in the counteroffensive to what was left by the Russian withdrawal from the Kyiv area months ago.
He pointed out that there was evidence of war crimes. And said, "All this is there. Investigative commissions with international partners, joint investigative commissions." 
"There is some evidence, and assessments are being conducted, Ukrainian and international, and this is very important for us, for the world to recognize this," he added.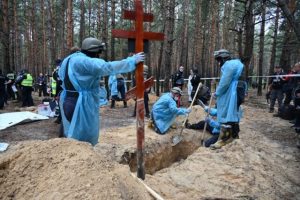 Zelensky visits the city of mass graves 
On Wednesday, Ukrainian President Zelensky made his way to the newly liberated city of Izyum in eastern Ukraine. The President wanted to thank his military for last weekend's successful counteroffensive that pushed out the Russians. And ended a nearly 6-month long occupation.
He attended a flag-raising ceremony in Izyum. The city was used as a vital supply hub by the Russian occupation forces.
Freed Izyum site of atrocities 
Ukrainian authorities discovered 440 graves this week at a mass burial site in Izyum.
Serhii Bolvinov, the chief police investigator for the Kharkiv region, says he fears that there may be similar mass burial sites throughout the Kharkiv area.
According to Sky News exhumations are in progress. Many of the graves are fresh and not the result of Russian shelling that took place before the Russian military gained control. 
"We know that some were killed (shot dead), some died because of artillery fire, so-called mine explosion traumas. Some died because of airstrikes. Also, we have information that a lot of bodies have not been identified yet. So, the reasons for death will be established during the investigations," Bolvinov added.
The Ukrainian Defense Ministry released photos of numerous crosses on mounds in a wooded area near Izyum. There was also a larger pit dug where bodies appeared to be buried together.
During his Thursday address, Zelensky Russia must be held accountable for deaths in Izyum and in other areas where large numbers of bodies had been found.
"Bucha, Mariupol, and now, unfortunately, Izyum… Russia leaves death everywhere. And must be responsible for it. The world must hold Russia to real responsibility for this war. We will do everything for this," he added.
Ukraine remains defiant
In the meantime, the war is continuing throughout the region. Ukraine is also trying to restore utilities to areas where retreating Russian forces cut water and target electric transformers.
"The aim is to liberate the Kharkiv region and beyond – all the territories occupied by the Russian Federation. Fighting is continuing (in the Kharkiv region). It is still early to say full (Ukrainian) control has been established over the Kharkiv region," Deputy Defense Minister Hanna Malyar said in an interview.
Early this week In a Telegram post Zelensky addressed Russia.
 "Do you still think that we are 'one nation?' Do you still think that you can scare us, break us, make us make concessions?"
"You really did not understand anything? Don't understand who we are? What are we for? What are we talking about?" 
"Read my lips: Without gas or without you? Without you. Without light or without you? Without you. Without water or without you? Without you. Without food or without you? Without you!"
"Cold, hunger, darkness, and thirst are not as scary and deadly for us as your friendship and brotherhood. But history will put everything in its place. And we will be with gas, light, water, and food … and WITHOUT you!" He added.
Zelensky has also asked to address the U.N. General Assembly via video next week. Russia is trying to block the virtual speech from taking place.