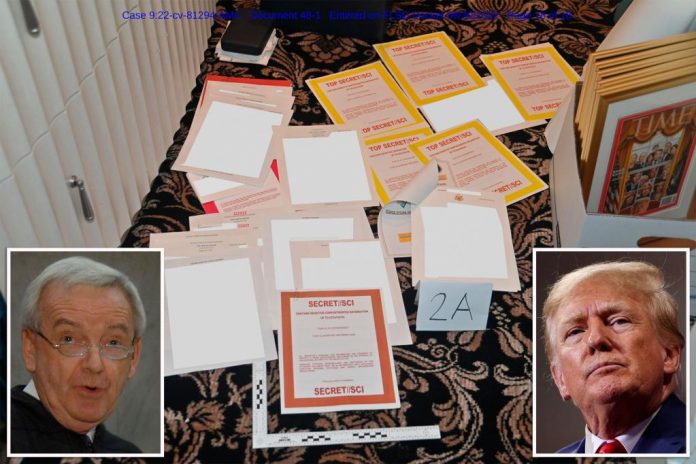 U.S. District Judge Aileen Cannon has granted Donald Trump's request for a Special-Master to review the documents obtained in a search warrant raid of Mar-a-Lago. Federal Judge Raymond Dearie was chosen. He was the first choice of Trump's attorneys and was also acceptable to the DOJ.
Judge Cannon also rejected the DOJ's plea to continue its investigation. Ruling that the government must halt its review and may not use seized materials for investigation until the special-master completes his review.
Trump is being investigated for allegedly taking classified documents with him when he left the White House. And it was determined a Special-Master will provide an independent review.
Judge Raymond Dearie is known as a fair judge 
 Judge Raymond Dearie, 78, has served as a federal judge in New York since 1986. He was serving as U.S. attorney for the Eastern District before being nominated by Republican President Ronald Reagan for the bench.
His district includes Brooklyn, Queens, Staten Island, and Long Island. It is arguably the busiest legal district in the US.
Dearie was chief judge from 2007 to 2011. He is currently a Senior judge. Senior status is given to long-serving judges as a form of semi-retirement.
Supreme Court Chief Justice John Roberts appointed Dearie as a Judge of the U.S. Foreign Intelligence Surveillance Court from 2012–2019.
During his career he has presided over many high-profile cases involving organized crime, drug smuggling, murder, extortion, and terrorism.
Dearie familiar with Intel and top secrets 
The jurist presided in a 2011 case where an Afghan immigrant conspired to detonate a bomb in the subway. He was also the judge on a case where a former baggage handler was accused of stealing Sarah Ferguson, the Duchess of York's jewels.
The Supreme Court Chief Justice John Roberts appointed Dearie as a Judge of the U.S. Foreign Intelligence Surveillance Court from 2012–2019.
During his term with the intel court in Washington Dearie signed off on surveillance warrants for federal investigators. These were only to be used against suspected spies and foreign agents in the US.
Dearie signed off on warrant for Carter Page
During his time on the Intel court, he was one of the judges who signed off on a request from the FBI and Department of Justice to monitor then-President Trump's former campaign adviser Carter Page.
It was later discovered that the document was based on fake evidence. And was being used as part of the now discredited "wiretapping" and Russian allegations to the Trump administration. 
The judges would have had no way to know they were given fake evidence by the FBI to obtain the warrant.
FBI lawyer Kevin Clinesmith ultimately pled guilty and admitted he altered email evidence. The email was used to obtain a Foreign Intelligence Surveillance Act (FISA) warrant for surveillance of the Trump campaign.
The altered evidence disguised the fact that then-Trump Campaign Foreign Policy Adviser Carter Page was a CIA source. There were multiple false claims about Carter Page made in the dossier. And most of them were already disproven by the time Clinesmith faked the evidence.
Right man for the job
Trump's team suggested Judge Dearie for the role of Special-Master.
The justice department also found him acceptable for the job. And claimed the judge has "substantial judicial experience… including federal cases involving national security".
Judge Dearie will review the seized material and decide whether any of the documents are covered by attorney-client privilege. 
Trump's legal team have also claimed executive privilege over the documents, which allows presidents to keep certain communications as their personal papers.
Judge Dearie (and his team) will provide an independent review of the documents. And will submit his findings and any recommendations to Judge Cannon. 
If any of the seized documents are found to be privilege protected, they cannot be used in any potential legal proceedings.