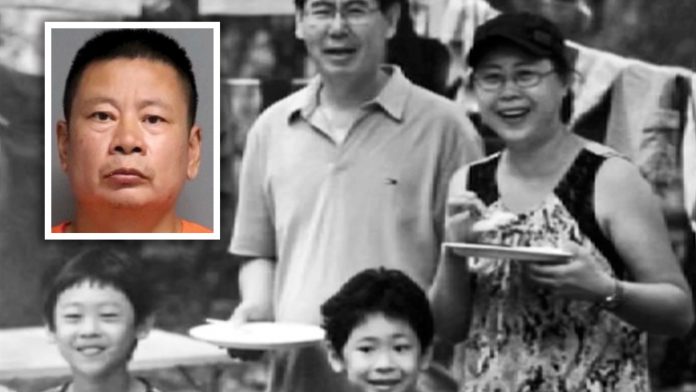 Feng Lu, 58, was arrested in a Texas cold case. The San Francisco Police Department and U.S. Customs and Border Protection took him in custody when he arrived in California on a flight from China. He was arrested for murdering a family of four in 2014.
According to Harris County Sheriff, Ed Gonzalez, he will be held in the San Mateo jail pending his extradition to Texas.
This is indeed huge news. Some background: https://t.co/fuqRKqjk7u https://t.co/iawypG4nAd

— St. John Barned-Smith ⚔️ (@stjbs) September 13, 2022
Maoye Sun murders 
Maoye Sun; his wife, Mei Xie; and their two sons, 9-year-old Timothy and 7-year-old Titus lived in Cyprus in a quiet suburban neighborhood outside of Houston, Texas.
Both Titus was in the local Cub Scout pack. The children were active. And were swimmers, played youth soccer, and took lessons in karate and piano. The family was active and well-known in the community. 
So, when no one heard from them for 2-days a sheriff's deputy was sent out to do a welfare check.
And on Jan. 30, 2014, he arrived at the Sun home and was confronted by a massacre. When he entered through the open kitchen door, he discovered the bodies. All four had been shot in the head execution style.
Investigation starts
Months after the terrible murders the homeowner's association continued mowing the lawn. And neighbors took turns washing the family's Toyota Corolla and Sienna minivan that were sitting for months at the now empty house. 
The investigation by the Harris County Sheriff's office soon reached a dead end. It appeared that the family was well-liked and had no enemies.
The deaths baffled investigators. After six months, then-Sheriff Adrian Garcia turned to the public for clues, offering a $70,000 reward for information. Neighbors, along with Houston's Chinese community helped raise money for the reward.
Then the case went cold.
It took eight years, seven months, and 17 days to develop the evidence and solve the Texas cold case. And Tuesday the current Harris County Sheriff, Ed Gonzalez was happy to announce his investigators had charged Lu with capital murder.
DNA and bullets from a Glock
According to the sworn affidavit of investigator Timothy Hayes, it was a professional dispute between Sun and Lu that led to the murders. Both men were employees at a Houston oil and gas company, Cameron International.
Lu's wife told investigators her husband and Sun disagreed about work. Lu wanted to get ahead at Cameron, but Sun "did not agree with the promotion." 
Lu asked Sun to recommend him for a transfer to the R&D department. And although Sun assured him that he had pushed for Lu to get the job he wanted. But the job never came through. And Lu blamed Sun.
In interviews after his arrest, Lu denies ever being inside the Suns' home. He said he didn't even know where he lived. He claims he never met Sun's wife and children.
But his DNA was found on Mei Xie's gray and black Coach purse at the murder scene.
An employee at Full Armor Firearms confirmed to investigators Lu bought a Glock 9mm handgun with 50 rounds of ammunition. Lu made the purchase on Jan. 23 and returned it on Feb. 4. It was returned without a barrel.
Analysts determined that the bullet taken from 7-year-old Titus Sun's body and two bullets recovered from bedrooms at the Suns' house have "design features that are physically consistent with bullets" Lu purchased in January 2014. And the bullet from the child's body was "identified as having been manufactured on the same machine" as the ammo Lu had purchased at Full Armor, according to the Hayes affidavit.
Texas cold case solved
Andy Kahan of Crime Stoppers Houston said "For eight plus years he's been on the run, and then he made a big mistake, and that's why he is in custody waiting to be sent back.  You're looking at a capital murder charge. I would imagine it's just a matter of time he'll be back to face trial."