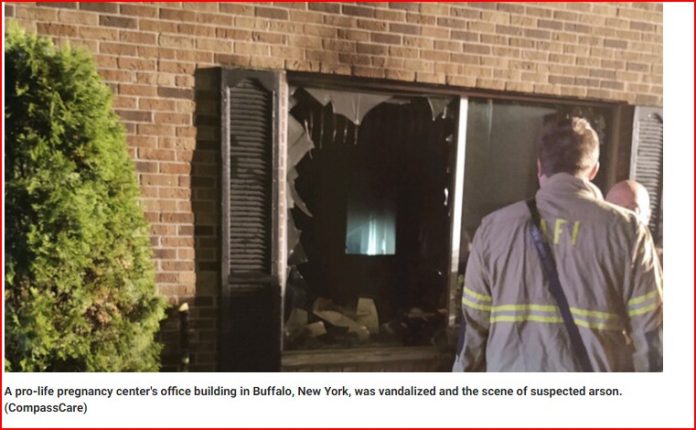 On the night before the Supreme Court published the final ruling in the case of Dobbs v. Jackson, which overturned 1973's Roe v. Wade, Jane's Revenge went public. In a May 30th statement, the militant abortion rights group called for a "Night of Rage."
The Supreme Court's decision to overturn Roe was a shock. Polling taken prior to the ruling indicated that a majority of both Democrats and Republicans were not pushing for the law to be dismantled.
The news was met with large pro-abortion protests.
There have also been more than 50 attacks on pro-life organizations across the U.S. Firebombing, vandalism, and threats of violence mark the attacks. And left-wing Jane's Revenge claimed responsibility for at least 18 of the arson and vandalism attacks.
Crisis pregnancy centers (CPCs) and other mostly faith-based organizations have been targeted since the May 2 leak of the Supreme Court draft opinion.
Jane's Revenge issues threats
Since the release of its first statement, Jane's Revenge has been increasingly urging acts of vandalism, arson, and even violence. The group appears to be operating in "plain sight" in the form of "Abortion Media" blog posts with email subscribers.
They also send out their information through Noblogs.org. And Jane's Revenge appeals to anyone "with the urge to paint, to burn, to cut, to jam" or to commit violence. 
A June 14th blog described how "easy and fun it is to attack" and says the group will take "increasingly drastic measures against oppressive infrastructures." They even warn that "those measures may not come in the form of something so easily cleaned up as fire and graffiti."
"From here forward, any anti-choice group who closes their doors, and stops operating will no longer be a target. But until you do, it's open season, and we know where your operations are," the blog post warns.
The next day another online statement from Jane's Revenge suggested it had local groups operating throughout the US. And it will continue to advocate violence, calling it "open season."
First attacks include violent threats
The Wisconsin Family Action facility was firebombed and vandalized on May 8th. And the attackers painted a threat on the building, "If abortions aren't safe, then you aren't either."
So far, no arrests have been made in the case, which police say is still considered active.
"Not only have no arrests been made, but to the best of my knowledge, no person of interest has even been apprehended or brought in for questioning," Wisconsin Family Action President Julaine Appling told Fox News Digital on Monday.
Appling has heard nothing from the FBI. And hasn't talked to local police authorities since early June. And despite the threats no one seems concerned about the safety of her or her staff.
There has not been a single arrest for any of the attacks in which Jane's Revenge has claimed responsibility.
FBI seems confused
 In a Sept. 7 statement, the FBI said it is still investigating the "series of attacks and threats targeting pregnancy resource centers, faith-based organizations, and reproductive health clinics across the country, as well as to judicial buildings, including the US Supreme Court." 
"The incidents are being investigated as potential acts of domestic violent extremism, FACE (Freedom of Access to Clinic Entrances) Act violations or violent crime matters, depending on the facts of each case," the FBI said. 
"The FBI takes all violence and threats of violence very seriously, and we are working closely with our law enforcement partners at the national, state and local levels to investigate these incidents."
There has been no mention specifically of Jane's Revenge. And no one that has been threatened or had their offices attacked has heard from the FBI.
Jane's Revenge echoes the 1960's
The group's name appears to be connected to a group that operated in the late 1960s and early 1970s called the "Jane Collaborative." The so-called collaborative was a Chicago-based underground ring of resources that helped women to obtain abortions before it was legal.
It is uncertain if the FBI is aware that the National Public Radio (NPR) ran a series of stories about the "Jane Collaborative" in early May around the time the Supreme Court leak of the Dobbs decision.