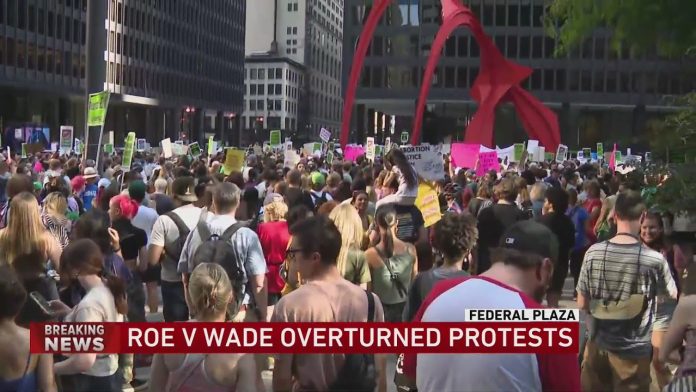 The Supreme Court's reversal of the 50-year-old Roe v. Wade decision was announced on Friday. And protests across the country erupted. Demonstrations for abortion rights took place in almost every major city across the U.S.  Washington D.C., New York, Atlanta, Phoenix, Chicago, Los Angeles, and Detroit had large protests with participants angry at the Court's ruling.
The Supreme Court's abortion ruling to overturn Roe v. Wade sparked protests across the country. Abortion rights demonstrators took to the streets in cities, including New York, Washington D.C., Atlanta, and Detroit, decrying the decision. https://t.co/0qXgNB4xdh pic.twitter.com/ejpT4YRSG9

— ABC News (@ABC) June 25, 2022
After a May leak of the upcoming decision there have been protests at the Supreme Court Justices' homes. And there was also an assassination attempt of Justice Brett Kavanaugh.
Phoenix abortion rights protests get violent
Late Friday, police released tear gas to disperse protestors at the Arizona Senate building. According to an Arizona Department of Public Safety the move came after demonstrators were banging on the glass doors of the building.
When the protests broke out some lawmakers were inside the state Capitol working on legislation. Republican state Sen. Michelle Ugenti-Rita posted a video on Twitter from inside the building. It shows protesters with signs chanting. And banging at the glass doors. 
Arizona Capitol pic.twitter.com/sf8UcFvByD

— Michelle Ugenti-RITA (@MichelleUgenti) June 25, 2022
Local legislators are already comparing the protests to January 6th.
Arizona State Senate pic.twitter.com/0acGnDf5Y4

— Michelle Ugenti-RITA (@MichelleUgenti) June 25, 2022
Rhode Island brawl 
Friday was also the scene of what is now known as the Rhode Island brawl in Providence. The protests outside the state house broke down into violence.  
A man running as the GOP candidate for state Senate was put on leave from his job as a police officer.  Jeann Lugo is shown in a video posted on Twitter apparently punching his political rival, Jennifer Rouke. 
EXCLUSIVE- video of brawl at State House part 1 pic.twitter.com/fx7Z6msGg5

— Bill Bartholomew (@BillBartholomew) June 25, 2022
Washington DC insurrection rhetoric 
Representative Alexandria Ocasio-Cortez (AOC) spoke to a crowd of abortion rights activists in front of the Supreme Court after the decision was announced. 
Asked by a crowd member: "What can you do in Congress?"
AOC, a New York Democrat, responded: "I mean that's the thing. We have to fill the streets. Right now, elections are not enough." 
AOC and other activists have also been urging protests directly aimed at Supreme Court Justices. And she has claimed that the Supreme Court is not entitled to protection.