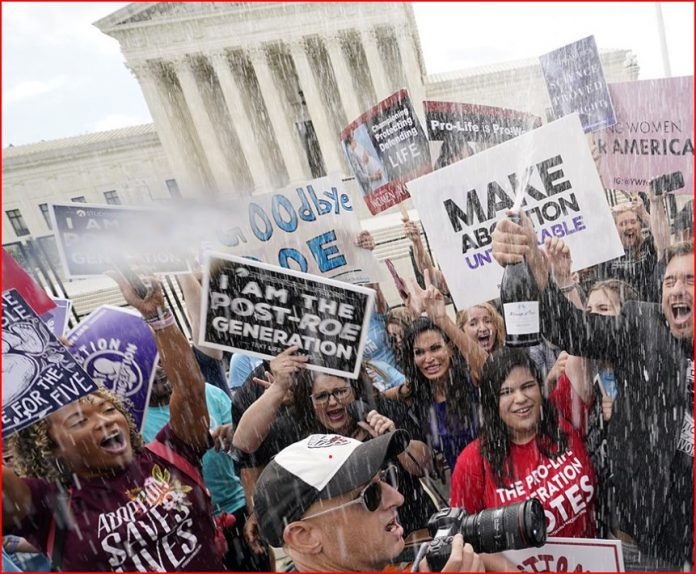 The crowd of protesters outside of The Supreme Court is continuing to grow after the court's reversal of Roe vs. Wade. There is also a crowd celebrating the end of abortion rights as we know them. The decision was overturned in Dobbs v. Jackson Women's Health Organization in a 6-3 ruling. 
The Dobbs case that dismantled Roe, is related to a Mississippi law that bans nearly all abortions after 15 weeks of pregnancy.
And just like that abortion rights become a matter of state choice.
The nearly 50-year-old Roe vs. Wade decision made abortion in the first two trimesters of a pregnancy legal in the U.S.  
According to the draft opinion leaked in May "Roe was egregiously wrong from the start," conservative Justice Samuel Alito wrote in the majority opinion. And both the 1973 Roe case and 1992's Planned Parenthood of Southeastern Pennsylvania vs Casey are being reversed.
Abortion rights consequences
A 6 to 3 ruling from Alito and five other conservatives on the high court, including Chief Justice John Roberts voted to toss Roe out.
The three more liberal justices filed a dissenting opinion to the ruling. 
With only 4-months before the midterm elections in November, the battle appears to be drawn on political lines.  Abortion remains a highly divisive issue. And Pro-life protests in front of the Supreme Court took place on June 13, 2022, in Washington, DC.
With Roe overturned, abortion will remain legal in Democrat states. And more Democratic-leaning states have already passed laws that maintain abortion-on-demand policies, including termination of pregnancies in the third trimester. More than a dozen states already have laws protecting abortion rights. 
Republicans and pro-lifers may try and extend the abortion ban. And 22 states are expected to entirely outlaw or severely restrict abortion rights.
Major Victory for pro-lifers
"The Constitution makes no reference to abortion, and no such right is implicitly protected by any constitutional provision, including the one on which the defenders of Roe and Casey now chiefly rely — the Due Process Clause of the Fourteenth Amendment," Alito wrote.
 "That provision has been held to guarantee some rights that are not mentioned in the Constitution, but any such right must be 'deeply rooted in this Nation's history and tradition' and 'implicit in the concept of ordered liberty."
"It is time to heed the Constitution and return the issue of abortion to the people's elected representatives," Alito added.
This marks a major victory for conservatives and anti-abortion advocates.  
Plot to kill a Justice underreported news
When the opinion leaked a series of protests at the homes of Supreme Court Justices began. And the protests are breaking Federal laws. But are being allowed to continue. 
Recently a plot to assassinate Justice Brett Kavanaugh was uncovered. And it has received little to no coverage in mainstream news sources.
Nicolas Roske has been held since June 8, when he was arrested outside the conservative justice's home. And he was arraigned Wednesday before the U.S. Magistrate Judge Ajmal A. Quereshi in Greenbelt, Md.  
At his arraignment, it was noted that "He had a suitcase and backpack that contained lock-picking and burglary tools, a Glock pistol, 37 rounds of ammunition, an aiming laser, and a pair of boots with padded outer soles that could allow stealth movement."
Justice Roberts vowed that the work of the court "will not be affected in any way" by the leak. And Roberts called it a "betrayal" intended to "undermine the integrity of our operations."
Tall fencing now surrounds the court building. And Attorney General Merrick Garland directed the U.S. Marshals Service to "help ensure the Justices' safety."