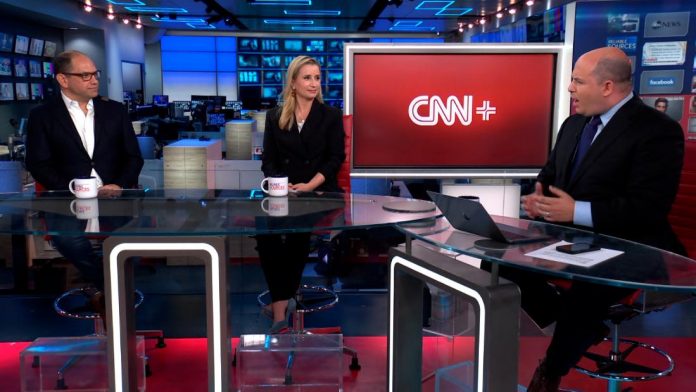 CNN launched a paid streaming news service called CNN+ at the end of March. But after 2 weeks CNN+ fails to attract much of an audience. CNBC reports that the streaming service has less than 10,000 viewers at any given time.
CNN developed the streaming service with the idea it would be the Netflix of news content.
The network promised to set itself apart from other streaming services by focusing entirely on news coverage. And was hoping to fill the gap created by a decline in traditional cable TV amid the growth of streaming. 
CNN described the new service as a complement to its existing programs on cable and CNN Digital. And features "daily newscasts for viewers to watch live or on-demand, documentaries, and specials.
On March 29th the new paid video streaming service became available.  At a cost of $5.99 per month, users gain access to a library of old CNN shows. And new shows featuring well-known hosts from the cable news channel.
CNN+ fails, so far, to compete with other streaming services
The service is offering every season of Anthony Bourdain's "Parts Unknown."  And although Bourdain died in 2018 his show was much loved by the CNN audience.
 New shows developed for the service include "Who's Talking to Chris Wallace?" And a library of CNN personalities hosting live. The stars include Anderson Cooper and Christiane Amanpour, as well as culture shows with celebrity hosts like W. Kamau Bell and Anthony Tucci.
This seems to be a very tepid launch. And the issue is heightened by the fact that Disney Plus had over 10 million subscribers on the first day it became available. And the NBC Peacock service reported that it had its first 10 million in its first quarter.
 CNN was projecting that upwards of 2 million subscribers would come onboard for the first year. 
The CNN+ fails may be partially explained by a shakeup in leadership at CNN following the firing of former leader Jeff Zucker and his number 2 in charge Allison Gollust. And the recent scandal with popular host Chris Cuomo's involvement with his brother's fight to stay Governor of New York. And the sex trafficking arrest of a veteran CNN producer.
The streaming platform is one of several services from CNN parent company newly minted as Warner Bros. Discovery. HBO Max and Discovery Plus are Warner Bros. efforts. And the recent merger of Warner Brothers and Discovery may also be complicating the launch.
Critics are claiming that the cable station CNN was already slipping dramatically in ratings and the content itself is to blame. 
But a CNN spokesperson said that "We continue to be happy with the launch and its progress after only two weeks."