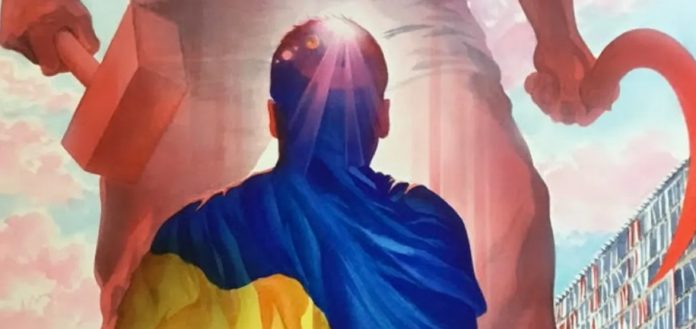 A myriad of comic-book writers, artists, colorists, letterers, designers, and editors have come together on a series of new comic-book projects. Comics for Ukraine: Sunflower Seeds, an anthology, is a 96-page-graphic (8 x 12 inches). And all the proceeds will be going to aid refugees in Ukraine. 
Except for hard costs like marketing, and printing the funds raised will directly benefit the relief efforts in Ukraine through a partnership with Operation USA.
Comics for Ukraine: Sunflower Seeds features incredible talents from the comic-book world.  And they are on a mission to help war-torn Ukraine. Everyone is donating their talents to create the ultimate comic collection. 
A variety of finished versions will be available.  And the unique work comes in both hardcover and softcover editions, and multiple cover choices.
The project is being crowdfunded by Zoop.
Cover Artists:
Alex Ross
Arthur Adams
Dave Johnson
Bill Sienkiewicz
Digital writers and artists:
Brent Anderson
Sergio Aragones
June Brigman
Kurt Busiek
 Howard Chaykin
 Joshua Dysart
 Mark Evanier
 Emil Ferris
 Dave Gibbons
 Rob Guillory
 John Layman
 Gabriel Rodriguez
 Stan Sakai
 Louise Simonson
 Walter Simonson
 Chris Sprouse
 Jill Thompson
 Matt Wagner
 Mark Waid
There are many more creators, colorists, letterers, and designers who are contributing their time and their talents in the effort to help Ukraine. 
Comics for Ukraine: Sunflower Seeds
Comics for Ukraine: Sunflower Seeds will be edited by Particular Initiatives Editor at IDW, Scott Dunbier. Scott looked for Ukrainian artists to add to the list of talents.