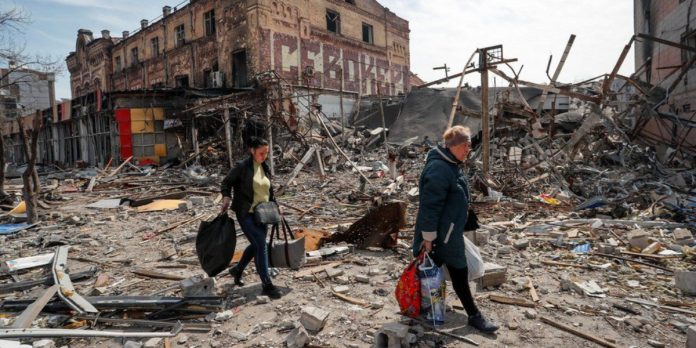 The southern port city of Mariupol, Ukraine has been bombarded by Russia for weeks.  Small groups of Ukraine fighters have been holding out in an Ilyich steel plant in the city. And they have been ordered by Putin to "Surrender-or-Die."
The once-thriving city has been largely decimated. It had a prewar population of over 430,000. And much of Mariupol's population has fled.
 It is difficult to calculate the loss of civilians. Mariupol has endured 7 weeks of bombing on non-military targets.
Russia is claiming that more than 1,000 Ukrainian troops have surrendered there. Ukraine continues to deny Russian estimates. 
UPDATE: 1-19-2022 The deadline for surrender has passed. And the last stand of the defenders of Mariupol continues. So far there has been no surrender. 
Ukraine President Zelenskyy said that a total of 2,500 to 3,000 Ukrainian soldiers have been killed in the conflict. And between 1,000 and 2,00 are said to be sheltering at the steel plant.
The city has been fighting back. The city looks like a graveyard for tanks. The streets are cluttered with bombed-out and abandoned Russian equipment. 
Capturing Mariupol would mean an important strategic victory for Moscow.
Putin's strategy with the Russian invasion of Ukraine has always had Mariupol as a primary target. Located in the Luhansk region on the Sea of Azov, its port is important to Putin. He wants to use the area as a "land bridge" connecting the separatist-controlled Donbas area and the Russian annexed Crimean Peninsula. 
A maternity hospital and a theater being used as a bomb shelter were both destroyed with major casualties. Only 100,000 people are believed to remain in the city. And they face extreme hardship with shortages of water, food, medicines, and food. Utilities are cut and buildings are in ruins.
Ultimatum surrender-or-die
Russia has urged the last defenders of the Ukrainian port city of Mariupol to lay down their arms. They gave a deadline early on Sunday morning.
Small groups of fighters have been holding out in an Ilyich steel plant in the city.  And Putin has sent them an ultimatum, and a deadline to surrender or die. The deadline has passed and the Ukrainians fear that their troops will be massacred by the Russians.
Zelensky said that if the Russians murder the Ukrainians there will be no more peace talks. So far, the Russians have not allowed the Red Cross access to help the wounded. And "agreed" evacuation corridors have been hit by missile attacks.  
With evidence throughout the country of atrocities and the murder of civilians, Ukraine remains resolute.