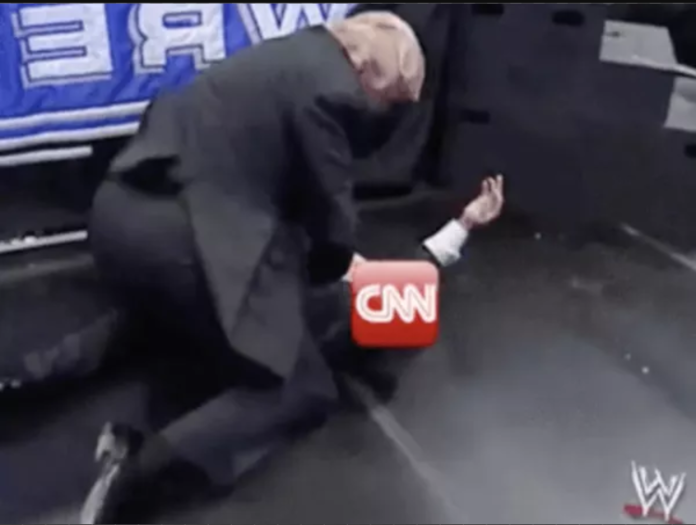 If the people of this nation did not already loathe CNN, they sure do now. A few days ago, President Trump made headlines when he tweeted out a comical meme depicting him wrestling a man with the CNN logo over his face. In the wee hours of this Wednesday morning, #CNNBlackmail became the number one trend on Twitter (and still is) after Americans learned that CNN essentially tracked and doxxed the 15 year old "HanAssholeSolo" Reddit maker who created this hilarious gif.
Apparently, CNN rattled this young man up enough to coerce an apology out of him, before issuing what they called "a warning."
A statement from CNN reads the following:
"CNN is not publishing HanA**holeSolo's name because he is a private citizen who has issued an extensive statement of apology, showed his remorse by saying he has taken down all his offending posts, and because he said he is not going to repeat this ugly behavior on social media again. In addition, he said his statement could serve as an example to others not to do the same. CNN reserves the right to publish his identity should any of that change."
Many Americans were disgusted upon learning of this and rightfully censured CNN for infringing on this young man's right to free speech. The trending Twitter hashtag #CNNBlackmail has been accompanied with new, amusing gifs and memes that depict President Trump beating up CNN. The people of this nation did not take too kindly to CNN's response to the Reddit creator and boldly declared their determination to create even more anti-CNN memes as a means to rebel against those who would infringe upon their free speech.
Quite frankly, CNN would have been much better off had they simply forgotten about the wrestling meme. President Trump posted it on his Twitter page, but if CNN had simply left it at that, they would not be recieving such strong backlash and people most likely would have forgetten about the gif within a week. However, since CNN took it upon themselves to track down and threaten the creator of this meme, this situation will not be going away for a very long time.
As a result of CNN harrassing a private citizen merely because they did not care for his artistic internet creation, they are now officially the most hated network in America. As German Lopez rightfully tweeted out, releasing the Reddit user's identity would inevitably lead to personal problems and backlash that could affect him for years to come. The fact that anyone at CNN thought it appropriate to blackmail this young man with the potential release of his personal information is utterly appalling and disgraceful. As a result, the internet completely detests CNN and their ratings will most likely continue to plummet.