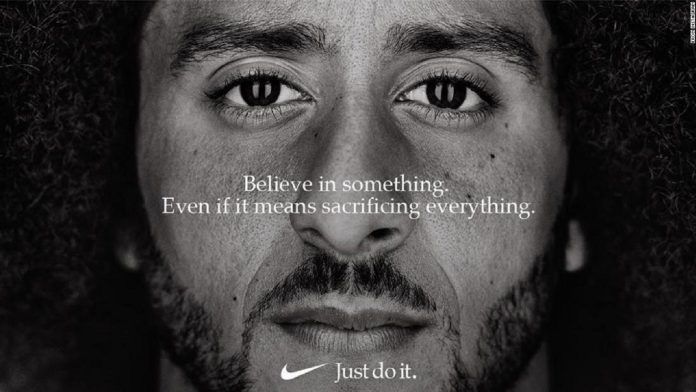 Nike earned both praise and criticism with its new ad featuring Colin Kaepernick and his protest. Kaepernick was the San Francisco 49ers quarterback who started the trend among some NFL players to kneel during the national anthem before each game. The players' reason for protesting is to highlight supposed police brutality against blacks.
The ad, as shown above, reads, "Believe in something, even if it means sacrificing everything." Kaepernick hasn't played an NFL game since 2016.
Good Business?
Nike released the ad this weekend, just before the start of the NFL season this Thursday. Following the release of the ad, many people nationwide posted photos and videos of themselves throwing away or burning Nike products. So, is Nike foolish for alienating customers?
Maybe not. Nike is celebrating its 30th year of the "Just Do it" campaign. Whereas most brands avoid politics, some use certain issues to appeal to their customers.
Brian Gordon, the CEO of Engine Shop, a sports and entertainment marketing agency, says that Nike is using the ad to create a bond with athletes and black Americans. He says that it is "authentic to who they are and the communities they represent and speak to."
Gordon added, "Even in the face of potential backlash, they support their athlete partners, and that's an incredibly powerful statement to the athlete community."
Impact on the Business
Nike stock prices immediately fell following the ad, dropping by 3 percent Tuesday.
Neil Saunders, the managing director of GlobalData, a data and analytics firm, called the Kaepernick ad "commercially imprudent."
He said, "Nike's campaign will generate both attention and discussion, which is, arguably, one of its central aims. However, it is also a risky strategy in that it addresses, and appears to take sides on, a highly politicized issue. This means it could ultimately alienate and lose customers, which is not the purpose of a marketing campaign."
Others say that with $34.5 billion in 2017 revenue, the company doesn't need to worry about losing some customers. Allen Adamson, the co-founder of marketing firm Metaforce. He said, "What you stand for is almost as important as what you make. It's a polarized marketplace. No matter what you do, you offend some people. They're focused on what they stand for, and if that upsets some users, so be it."
Robert Passikoff, founder of marketing consultancy Brand Keys, said, "My guess is that the audience that is reacting so badly to this aren't buying a lot of Nikes anyway. They'll move on to the next thing. Welcome to the 21st century."