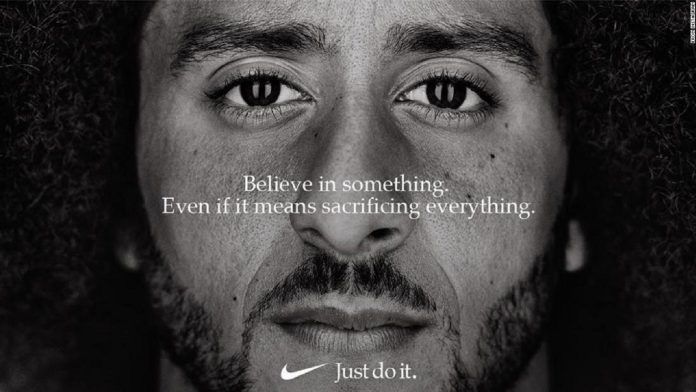 Nike earned both praise and criticism with its new ad featuring Colin Kaepernick and his protest. Kaepernick was the San Francisco 49ers quarterback who started the trend among some NFL players to kneel during the national anthem before each game. The players' reason for protesting is to highlight supposed police brutality against blacks.
The ad, as shown above, reads, "Believe in something, even if it means sacrificing everything." Kaepernick hasn't played an NFL game since 2016.
Good Business?
Nike released the ad this weekend, just before the start of the NFL season this Thursday. Following the release of the ad, many people nationwide posted photos and videos of themselves throwing away or burning Nike products. So, is Nike foolish for alienating customers?
Maybe not. Nike is celebrating its 30th year of the "Just Do it" campaign. Whereas most brands avoid politics, some use certain issues to appeal to their customers.
Brian Gordon, the CEO of Engine Shop, a sports and entertainment marketing agency, says that Nike is using the ad to create a bond with athletes and black Americans. He says that it is "authentic to who they are and the communities they represent and speak to."