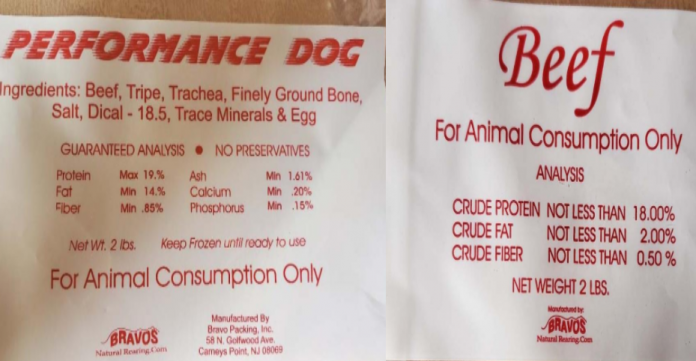 A federal district court ordered Bravo Packing, Inc. to stop manufacturing, distributing, and selling contaminated pet food products and to comply with the Federal Food, Drug, and Cosmetic Act (FD&C Act).
Bravo Packing is a family-owned and operated pet food manufacturing company based in Carney's Point New Jersey.
On March 15, the U.S. Department of Justice (DOJ) on behalf of the Food and Drug Administration (FDA) filed a lawsuit against Bravo Packing and its owners and operators, Joseph Merola and Amanda Lloyd, for violating the FD&C Act.
Prior to the filing of the lawsuit, the FDA conducted inspections at Bravo Packing's facility and a warning letter regarding its "significant food safety violations.
In the warning letter, the FDA stated that its investigators found the presence of Salmonella and Listeria monocytogenes in the collected samples of the company's dog food products.
Bravo Packing's Performance Dog Food (sample 1109036) contained Listeria monocytogenes while its Beef Dog Food  (sample 1109037) was contaminated with Salmonella.
During the inspections, FDA investigators observed the "grossly insanitary conditions" at the company's facility.
According to the DOJ, Bravo Packing and its owners and operators agreed to settle the lawsuit. The defendants also agreed to a Consent Decree of Permanent Injunction.  The Consent Decree requires the defendants to stop receiving, processing, manufacturing, preparing, packing, holding, and distributing adulterated pet food unless and until the company completes corrective actions.
Additionally, the consent decree grants the FDA the authority to order a recall, shutdown, or other corrective action in the event of future violations by the defendants. It also requires the defendants to pay the cost of inspections.
In a statement, the DOJ's Civil Division Principal Deputy Assistant Attorney General Brian Boynton, said, "Animal food manufacturers must ensure that their products are safe. The department will continue to work closely with the FDA to ensure that pet food is manufactured in compliance with the law."
On the other hand, the FDA's Center for Veterinary Medicine Director Steven Solomon, DVM, MPH, commented,  "The FDA has taken this action to protect public health because, despite multiple inspections, notifications of violations and recalls, this firm continued to operate under insanitary conditions and produce pet food contaminated with harmful bacteria. We will not tolerate firms that put people or animals at risk and will take enforcement actions when needed."