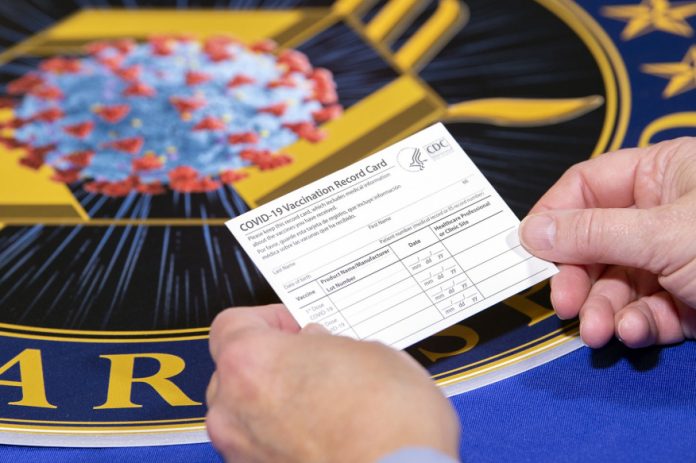 The U.S. Department of Defense (DOD) on Wednesday provided a preview of COVID-19 vaccination kits and what they look like. It showed that recipients will be getting vaccination cards to show others that they have received a vaccine and when the next dose is due.
Vaccination cards will be used as the simplest way to record COVID-19 shots, according to Kelly Moore, associate director of the Immunization Action Coalition, an organization that supports frontline workers who will lead the Covid-19 vaccinations.
"Everyone will be issued a written card that they can put in their wallet that will tell them what they had and when their next dose is due," Dr. Kelly Moore said. "Let's do the simple, easy thing first. Everyone's going to get that."
Frontline workers will be the first to get the COVID-19 vaccine
Each vaccine will be reported to the Center for Disease Control and Prevention (CDC). Frontline healthcare workers will be among the first to receive vaccine shots possibly sometime this month.
The preview of the COVID-19 vaccination kits come as drug manufacturers Pfizer and Moderna await the emergency use authorizations (EUA) in the United States.
On December 10 and 17, a panel with the U.S. Food and Drug Administration (FDA) is set to meet and review whether to issue EUAs for Pfizer-BioNTech and Moderna's COVID-19 vaccines, which showed efficacy rates of over 90%.
The CDC has issued a COVID-19 Vaccination Program Interim Playbook which states, "For most COVID-19 vaccine products, two doses of vaccine, separated by 21 or 28 days, will be needed. Because different COVID-19 vaccine products will not be interchangeable, a vaccine recipient's second dose must be from the same manufacturer as their first dose."
Second-dose reminders for vaccine recipients, according to CDC, will be critical to ensure compliance with vaccine dosing intervals and achieve optimal vaccine effectiveness.
"COVID-19 vaccination providers should make every attempt to schedule a patient's second-dose appointment when they get their first dose," CDC added.
The United States, however, would have to face limited initial supplies, with the bigger population having no access to COVID-19 vaccines until months into 2021.
As of posting, total COVID-19 cases in the country have jumped to 14 million while 274,000 deaths have been recorded.
Meanwhile, the United Kingdom was the first country to approve emergency use for the Pfizer-BioNTech COVID-19 vaccine.